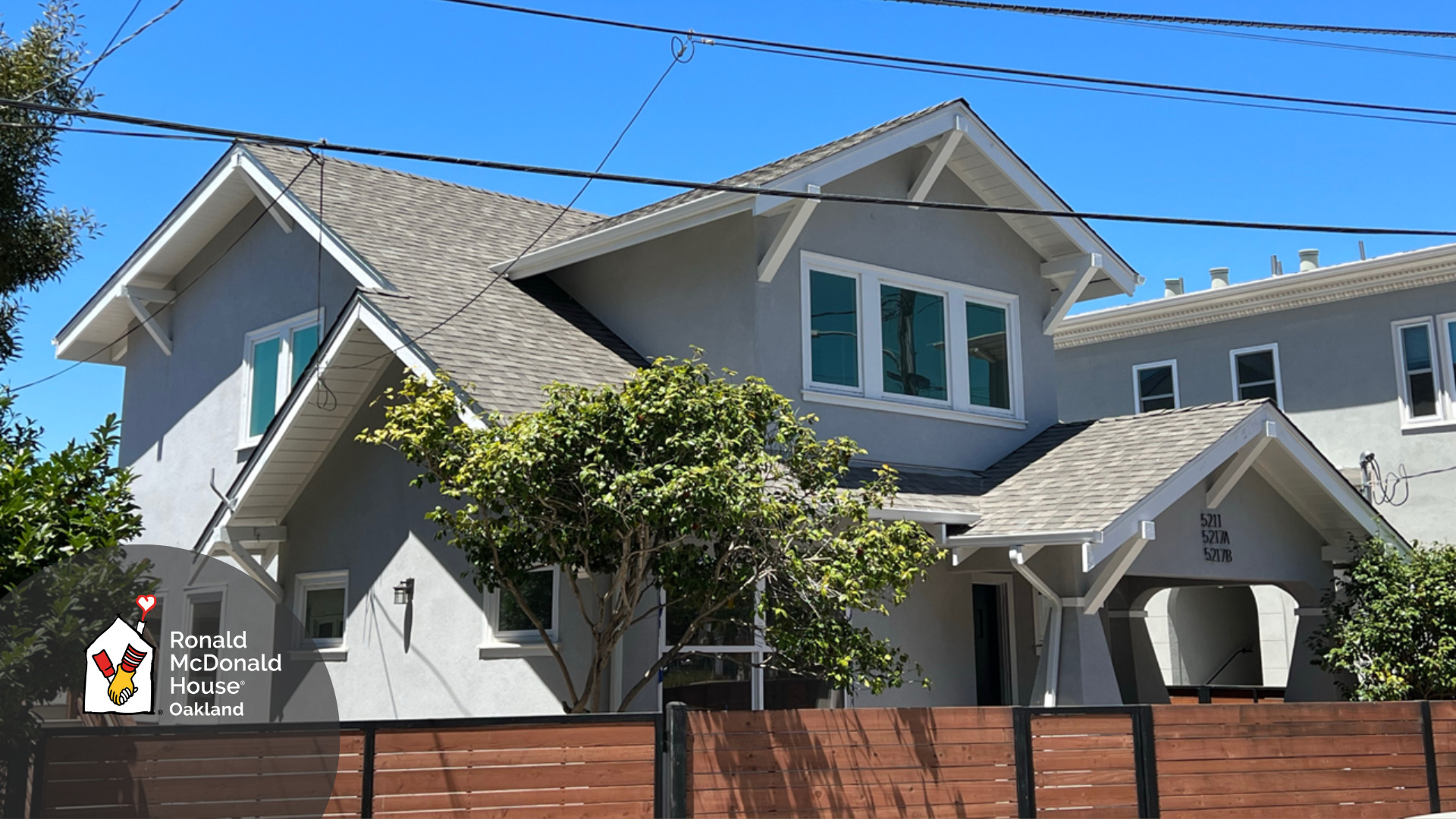 Coming Soon! Ronald McDonald House Oakland
Before the new Ronald McDonald House Oakland can officially open its doors to sick kids and their families, we need your help! Help "warm the house" by donating household items, program supplies, care kits, and more. To participate in our Oakland Housewarming Drive, check out our Wish Lists and Most Needed Items below.
Sign-up to receive Oakland updates. Click the button below to complete our Oakland interest form, and we'll add you to our email list to make sure you're in the loop about construction, campaign, and opening event updates.
Send Me Oakland Updates
Oakland Housewarming Drive
Click the button below to see our Oakland Housewarming Drive wish list on Amazon. Don't forget to make Ronald McDonald House Charities Bay Area your charity of choice on AmazonSmile!
Oakland Housewarming Amazon Wish List
Most Needed Furnishings & Household Items
Check back soon for a list of furnishings! We encourage you to complete the sign-up form below, so we can keep you updated.
Important Note: To protect the medically fragile children in our care, we can only accept new, unused items in their original packaging.
Oakland Housewarming Shipping Address
While construction is still underway, we are storing all donated housewarming items and furnishings for our new Ronald McDonald House Oakland in a container at our headquarters in Palo Alto, CA. Please use the shipping address below.
Shipping Address:
Ronald McDonald House Charities Bay Area
Regional Headquarters
510 Sand Hill Road, Palo Alto, CA 94304
We also encourage you to let us know about your Oakland delivery by emailing development@rmhcbayarea.org or noting "RMH Oakland" in your shipping memo.
In-Personal Drop-offs Available Soon!
As construction concludes, we will soon offer in-person deliveries in Oakland. To inquire, please contact Mallory Mroz, manager of corporate and community engagement, at Mallory.mroz@rmhcbayarea.org or 630.962.1147.
In addition to items that you'll find on our wish lists, families spending long days at their child's hospital bedside benefit from Comfort & Care kits, including toiletry items, activity kits, snack packs, and more. For more information on assembling Comfort & Care Kits, please click the button below.
Create Comfort & Care Kits
Sneak Peak of RMH Oakland
Purchase wish list items and send them directly to to our regional headquarters while we complete construction of the new RMH Oakland. (See wish lists and shipping address above for our regional office in Palo Alto, CA.)
Organize a Housewarming Drive with your clients, colleagues, and friends. Rally your community to donate most needed items, and schedule an in-person dropoff. Contact Mallory Mroz, at mallory.mroz@rmhcbayarea.org to inquire about in-person drop-offs, which will be available soon
Organize a Comfort & Care Kit party. The little things matter most during medical crisis. Check out our Comfort & Care Kit ideas, and get together with your clients, coworkers, and friends to assemble toiletry kits, snack packs, activity kits, and more.
Let us do the shopping for you! Donate to our Oakland Housewarming Campaign, and you can fund our highest priority program expenses.
Run for Team RMHC at the Oakland Marathon and Running Fest. You can fundraise to support our mission by registering to run on March 19, 2023.
Contact development@rmhcbayarea.org to learn more about establishing strategic partnerships and helping us launch our forthcoming campaign to ensure we can provide every family at UCSF Benioff Children's Hospital Oakland with comfort and support, when and where they need it most. If you have any questions or would like more information, you can also reach out to our Community & Corporate Engagement Manager Mallory Mroz at mallory.mroz@rmhcbayarea.org.