01 Mar

In The News — Ready, Set, Run the Oakland Marathon

Posted on Mar 01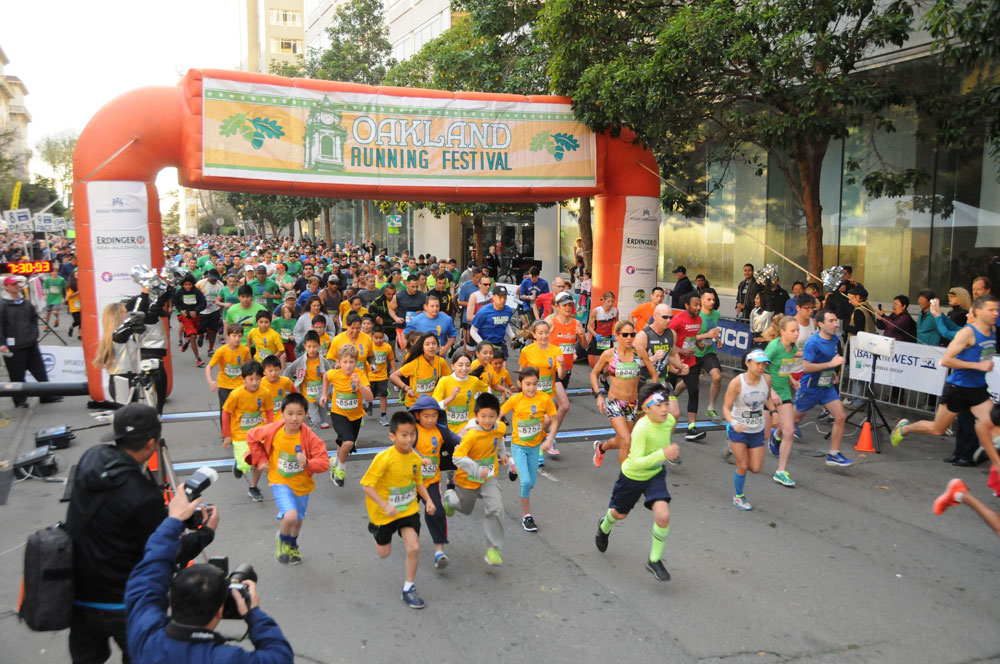 The Oakland Running Festival has a new owner, Run Local.
People of all abilities will be running The Town, culminating with the Oakland Marathon on Sunday, March 19, as part of the Oakland Running Festival. You, too, can join in the foot races that have put Oakland on the running city destination map.
While the marathon is the grande dame of the races, there's also the Total Dental Health Care 5K (3.1 Miles), 10K (6.2 Miles), Half Marathon (13.1 Miles) and the Eat. Learn. Play Kids Fun Run. Thousands will be running and walking to their finish line to celebrate Oakland and support a variety of charities.
This year's festival debuts with a new owner, Run Local, a San Francisco Bay Area-based sports event company that purchased the venerable running festival in January from the East Coast's Corrigan Sports. Run Local was founded by J.T. Service, a Bay Area native and 2008 U.S. Olympic Trials Marathon qualifier.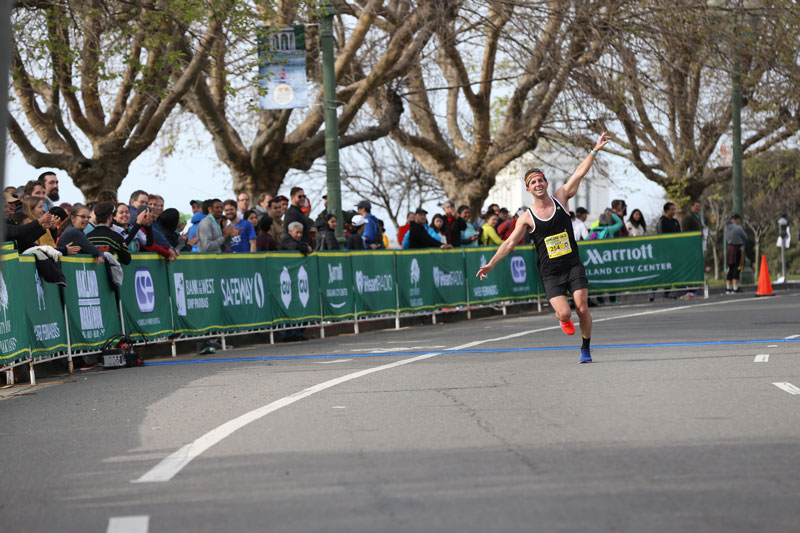 "Run Local is our name," said David Monico, director of marketing, also a Bay Area native. "First and foremost, we know the area. We have local staff and are building out the running festival in the most authentic way possible. This event is in our own backyard."
Don't expect too many changes for 2023, he said, because the race purchase happened so recently. But do expect Run Local to shore up the foundation Corrigan Sports laid with the first festival it launched in 2010.
David said this year's festival has been put together with a down-home, true-to-the community spirit that translates to the race courses, on-course entertainment, volunteers, T-shirts, swag, medals, and the pre- and post-race activities on tap for running enthusiasts of all ages and abilities. Those medals, by the way, were designed by local muralist Chris Granillo, known for his inspired 2020 Hands of Healing artwork that honored first responders.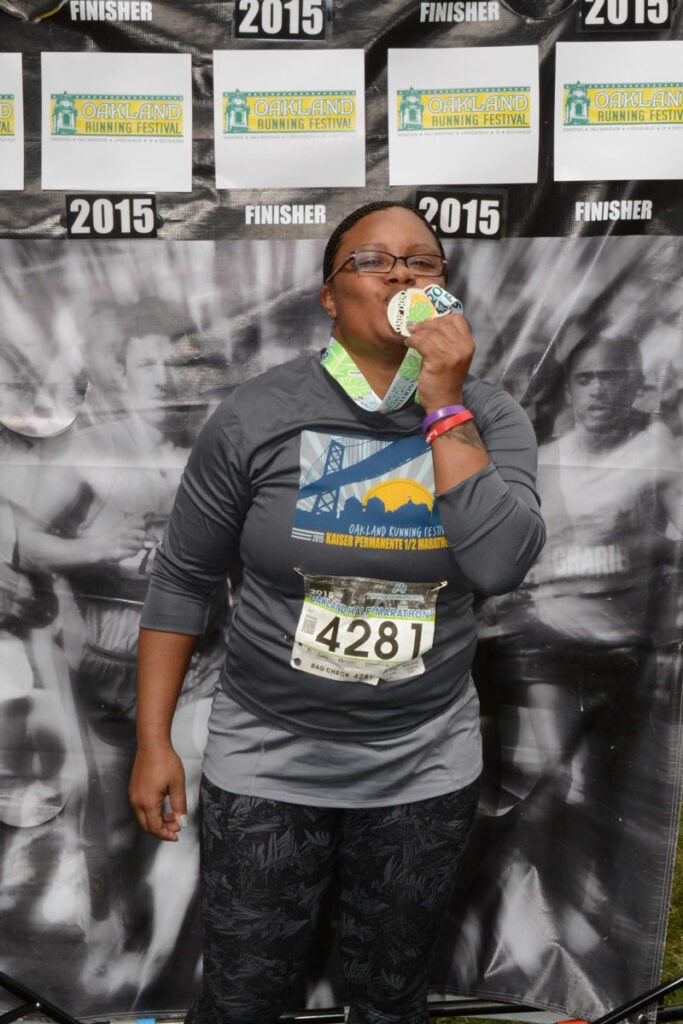 "There is literally something for everyone," David said, calling out opportunities for beginning runners, seasoned marathoners, veteran half-marathoners plus those who may have 5K and 10K races later in the running season–and anyone who wants to support local running. "This represents a great opportunity for wherever you're at," David said. "You don't have to be a runner to make a difference."
The running festival has virtual components, too (Marathon, Half Marathon, 10K and 5K), and social, charity and corporate groups also can get in on the action. There is no relay component this year.
Race central–as in where all the races start and finish up, as well as the HQ for packet and bib number pickup–is iconic Snow Park (Harrison and 19th streets).
To juice up the spirit of the Oakland Running Festival, race organizers have almost a full week of run festivities planned, prompting David to explain: "We are really beginning to call this race week," David said.
First up is a fun run with the beer-and-running boosters East Bay Beer Runners at Two Pitchers Brewery (2344 Webster St., Oakland, 510-999-4939, www.TwoPitchers.com) on Tuesday, March 14. It's an after-work run around Uptown followed by camaraderie, suds and maybe a little braggadocio about past glory days at track meets or prior sporting matchups.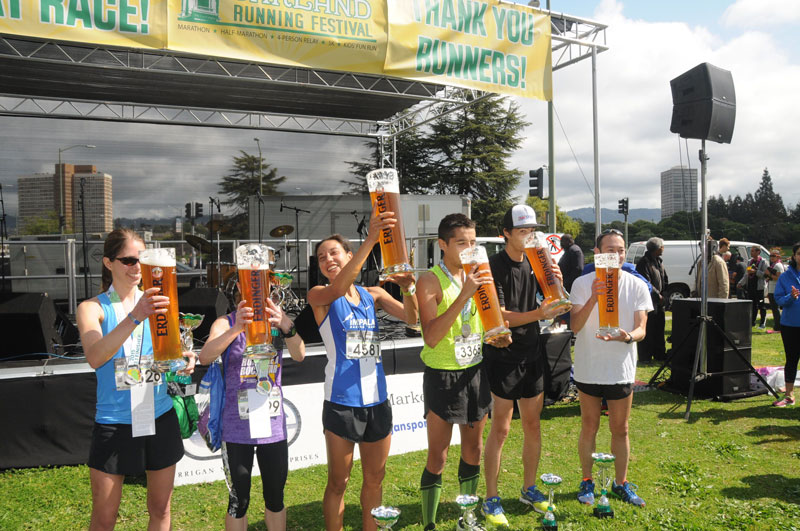 On Wednesday, March 15, the running fun moves to Road Runner Sports in Concord (1975 Diamond Blvd., 925-825-8052, www.RoadRunnerSports.com) from 4 p.m.-7 p.m. and then to the Road Runner Sports' Berkeley location (1326 Tenth St., 520-900-6272, www.RoadRunnerSports.com) from 4 p.m.-7 p.m. on Thursday, March 16. Race participants will be able to shop for new race gear and pick up their bib numbers in advance of their races at those locations, and they'll get their finisher T-shirts post-race.
The real race action starts Friday from 4-7 p.m. with the Health and Fitness Expo at Snow Park, where participants can pick up their bib numbers and T-shirts. On Saturday, March 18, from 10 a.m.-5 p.m. the area will be bursting with athletic goods' vendors–offering everything from shoes, apparel and active gear to health care products and more. Participants need to bring a photo ID, their emailed QR code and copy of their bib number or have a smart device containing that information. There is no packet pickup on race day.
Also on Saturday, in partnership with Stephen and Ayesha Curry's charity, the Eat. Learn. Play. Foundation, there's a Kids Fun Run at noon that lets young speedsters compete at distances from ¼ mile to 1 mile geared toward ages 0-12 years old.. All kids get a T-shirt, finisher's medal, water bottle and cinch bag. Parents and guardians, especially those of kids 5 and under, are encouraged to run the course with their child. Oakland Running Festival volunteers will be running alongside the children throughout the race.
Sunday, March 19, is the primary race day. Snow Park turns into Ronald McDonald House Charities Bay Area Celebration Village with a constant buzz of DJs performing and live bands playing music throughout the running festival. Don't miss the beer garden.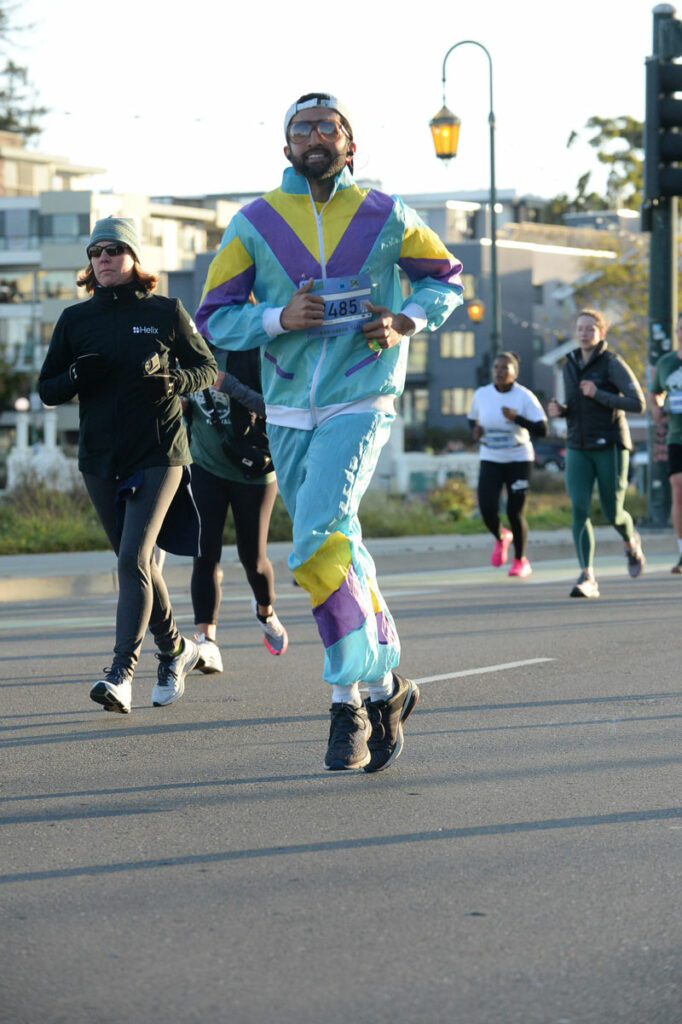 Both the Oakland Marathon and 10K start at 7 a.m., the Total Dental Health Care 5K begins at 7:30 a.m., and the starting gun goes off at 9 a.m. for the half-marathon. So far, about 100 runners have signed up for the Run Town Challenge, and these champs will be running the 5K and then the Half Marathon for bragging rights. As in past Oakland Marathons, members of the Lake Merritt Joggers & Striders–about 200 folks strong–will serve as pacers in the marathon and half-marathon for runners with specific time goals in mind.
David described this year's marathon course as super-spectator friendly because it includes two 13-mile loops loosely centered around Lake Merritt, the gem of Oakland. The course passes by many familiar local downtown Oakland landmarks, and the two loops mean friends and fans have better opportunities to see and cheer on the athletes they're rooting for and supporting.
Sunday's runners who complete their races will receive the unique medals whose message is a hopeful one, that post-pandemic Oakland has come back stronger than ever.
"You've got to finish the race to get a medal," David said.
David is happy to be helping the Oakland Running Festival truly be a local event, an occasion for people to move, be healthy and have fun meeting up with like-minded people.
"This is what we do," David said. "We love empowering runners. We love empowering communities. Run Local's mission is to inspire movement in your community. That can mean a lot of things."
By the way, ORF coincides with Oakland Restaurant Week, so combine the two for more fun than you're used to.
"It's just going to be an awesome week for playing and hanging out in Oakland," David said.
For more information on the Oakland Running Festival, the Oakland Marathon, Half Marathon, 10K, Total Dental Health Care 5K and Eat. Learn. Play. Kids' Fun Run, visit www.OaklandMarathon.com.