Ronald McDonald Care Mobiles
Preventative dental care for Bay Area children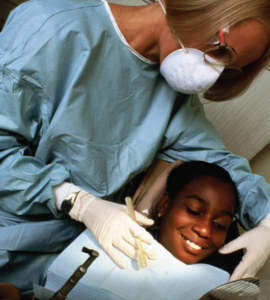 Poor oral health is proven to disrupt normal childhood development, seriously damage overall health and self-esteem, and impair children's ability to learn, concentrate, and perform well in school. Nearly one-fifth of California's children (1.8 million) lack dental insurance, according to a 2008 California HealthCare Foundation report.
Our Ronald McDonald Care Mobiles provide free dental services for children and youth through age 19. Through the services we provide, our goal is to reduce barriers to dental care and improve the dental health of under-served children in the Bay Area. Eligible uninsured children were enrolled in Denti-Cal programs.
Ronald McDonald Care Mobile in Santa Clara:
2,000 mobile clinic visits
1,000 low-income children served
Ronald McDonald Care Mobile in Contra Costa County:
1,400 mobile clinic visits
665 low-income children served
RMHC Bay Area partners with Santa Clara Valley Medical Center and John Muir Community Health Alliance to provide free oral health care services to our region's most vulnerable children.