VIDEO: CEO Laura Keegan Boudreau shares RMHC Bay Area's vision and path to serving more families across our region.
Increasing Access to Pediatric Care & Strengthening Family Support Systems
``One of our organization's founders, Dr. Audrey Evans, said "a family with a sick child is a sick family." Put simply, the family is a system, and no member can be understood in isolation. That makes the family an incredibly rich place to advance social work values: it's one of our first and most important human relationships. It's where social justice issues – poverty, racial injustice, access to health and education – are first evident. It's a place where intervention and support can make a tremendous difference, especially in the life – and health – of a child.``
Building an entire neighborhood of support for children and families facing medical crisis.
We've become more than Ronald McDonald House — we've become an entire neighborhood of support. And while our brick-and-mortar House programs will always be at the center, we know that there are opportunities to reach even more families by thinking beyond our walls.
As recover from a global crises, we're not looking for an elusive return to "normal." Instead, we're focused on agility, on innovation, and on marshaling resources to support even more families. We're excited to continue building our neighborhood. Together, we can be there for every child and family facing medical crisis, when and where they need it most.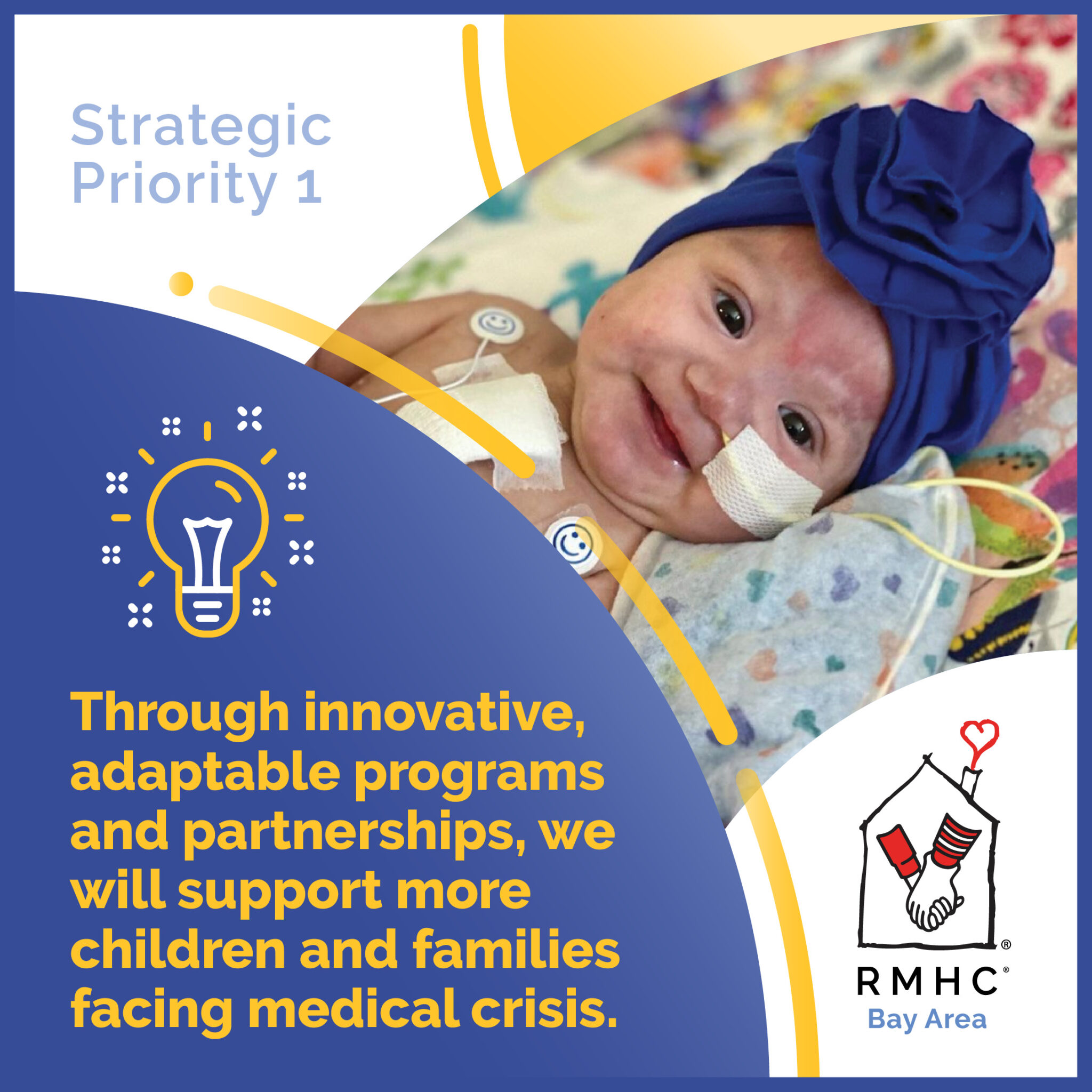 STRATEGIC PRIORITY #1: Through innovative, adaptable programs and partnerships, we will support more children and families facing medical crisis.
The Bay Area is well known for its top-ranked pediatric specialty care – and for having the highest cost of living in the United States. Whether traveling long distances or across town to access care, the strain of securing basic necessities like housing, food, transportation and childcare can break any family's stability. The need for our support has never been greater; it's time to scale our services, grow beyond our walls, and marshal as many resources as possible so that we can be there for every family who needs us. Learn More
Feed the Love Meal Expansion Project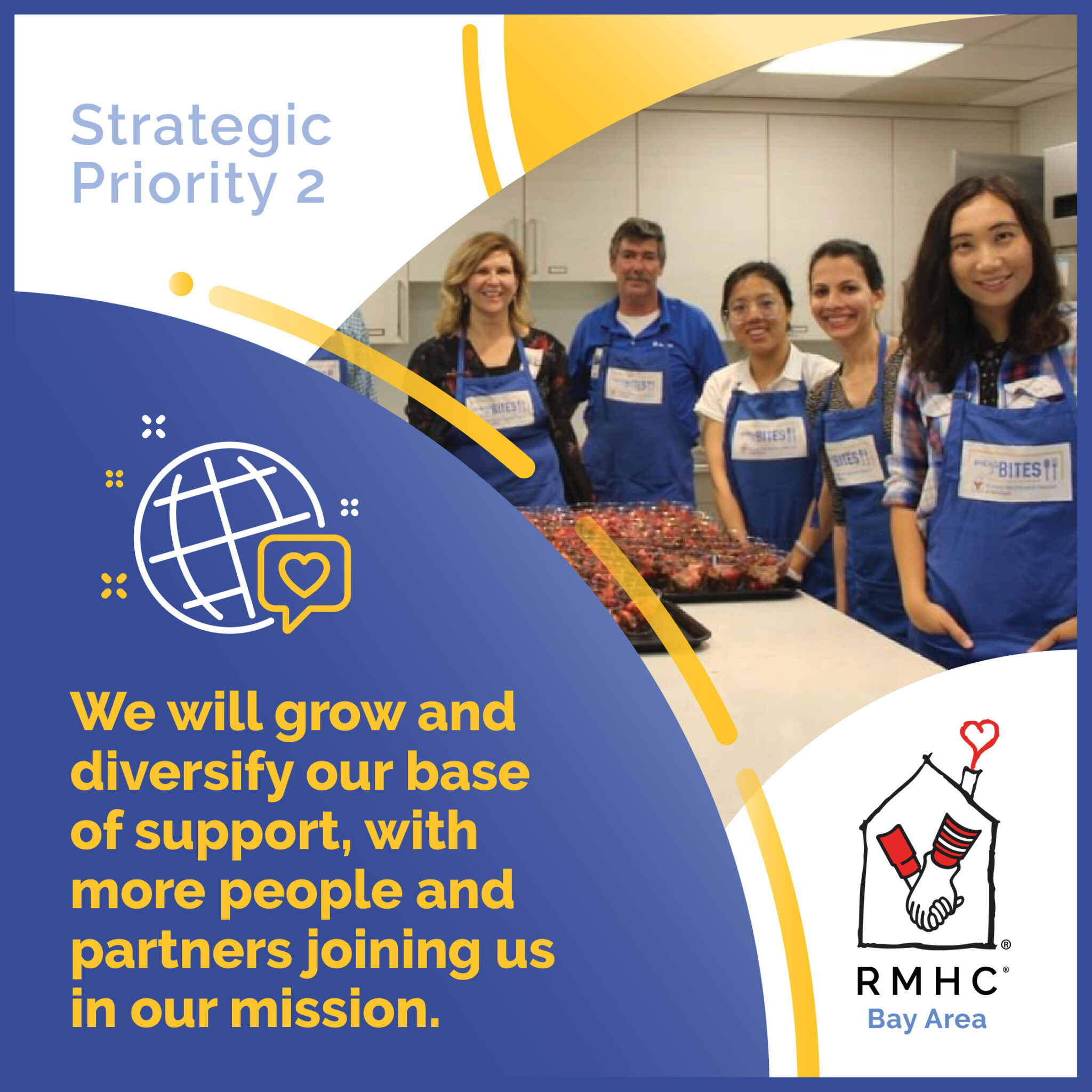 STRATEGIC PRIORITY #2: We will grow and diversify our base of support, with more people and partners joining us in our mission.
Our geographic and service expansion creates opportunities for more individual, foundation and corporate donors to join our neighborhood of support. With the current focus on corporate social responsibility and Environmental, Social, and Governance (ESG) investing, we offer a compelling partnership, addressing the very issues that our thriving Bay Area economy exacerbates – housing, food and resource insecurity. We can demonstrate immediate impact with donations – large or small, cash or in-kind – allowing donors to see their direct role in scaling services to more families in more communities. Learn More
Annual Report: Your Impact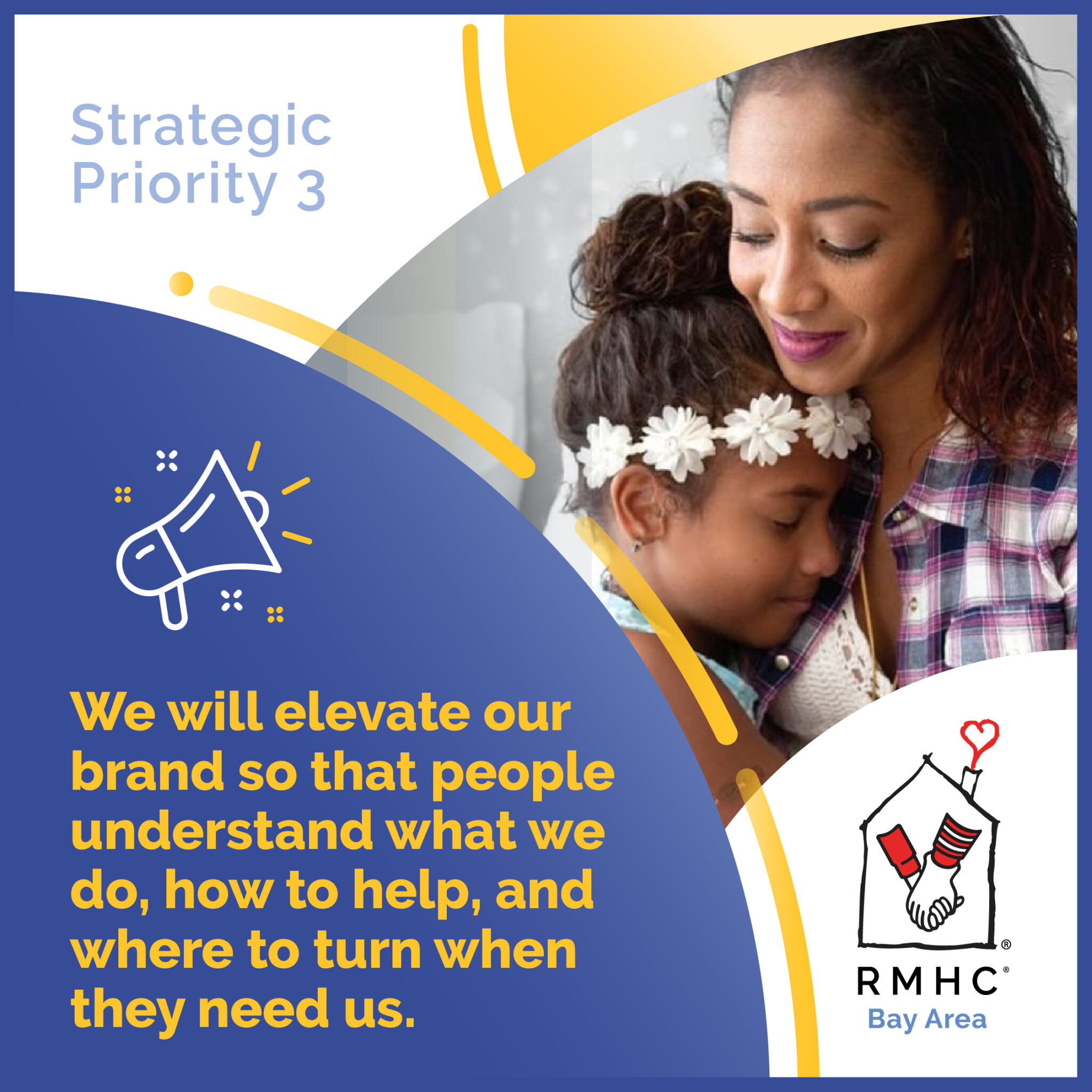 STRATEGIC PRIORITY #3: We will elevate our brand so that people understand what we do, how to help, and where to turn when they need us.
While most people have heard of Ronald McDonald House Charities, fewer truly understand what we do. That presents us with a tremendous opportunity, because when people learn about what we do, they want to help. To build the base of support we need to amplify our message – engaging Spanish speaking audiences, leveraging the PR power and customer base of McDonald's, and getting our message to outer reaches of the region.
Emilio's Story
McDonald's Owner Larry Tripplett Names New Oakland House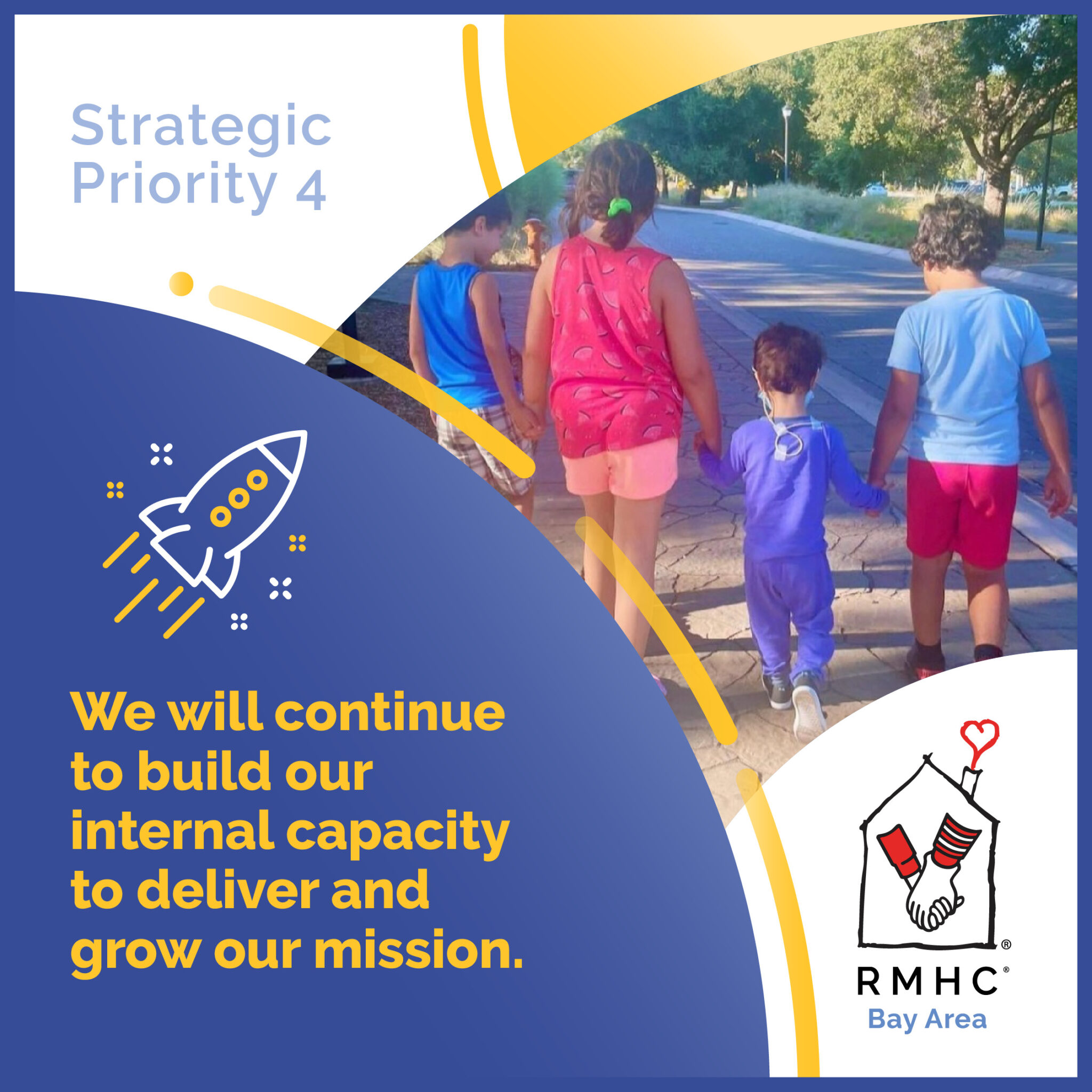 STRATEGIC PRIORITY #4: We will continue to build our internal capacity to deliver and grow our mission.
As with any growing neighborhood, infrastructure is crucial to our ability to thrive. We are committed to thoughtful, strategic and long-term investment in the people and systems that drive our mission delivery.
Staff Share Their Why
Strategic Lenses
How We Do the Work Matters
Lenses bring our strategy development into sharper focus. They prompt us to ask key questions as we operationalize each strategic initiative and drive us to consider how we do our work, not just what the outcomes are. These are not individual strategies but part of our organizational DNA.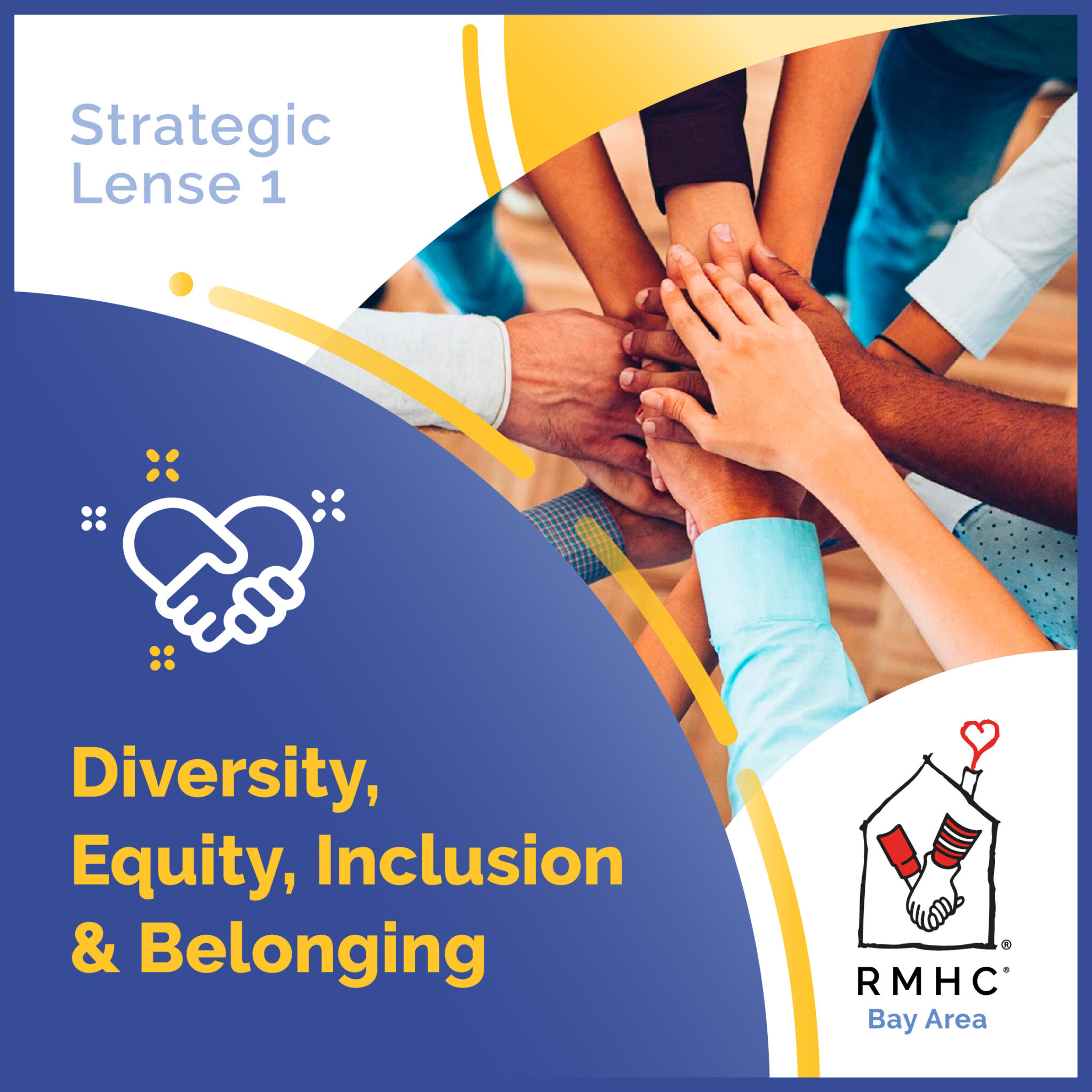 LENS #1: Diversity, Equity, Inclusion & Belonging
The questions we ask ourselves:
Do our staff and board reflect the communities in which we operate and the families we serve?
Are we considering social determinants of health in our program development?
Are we reaching out to donors in multiple languages, and engaging affinity groups as we broaden our base of support?
Is our organizational culture inclusive and welcoming to all?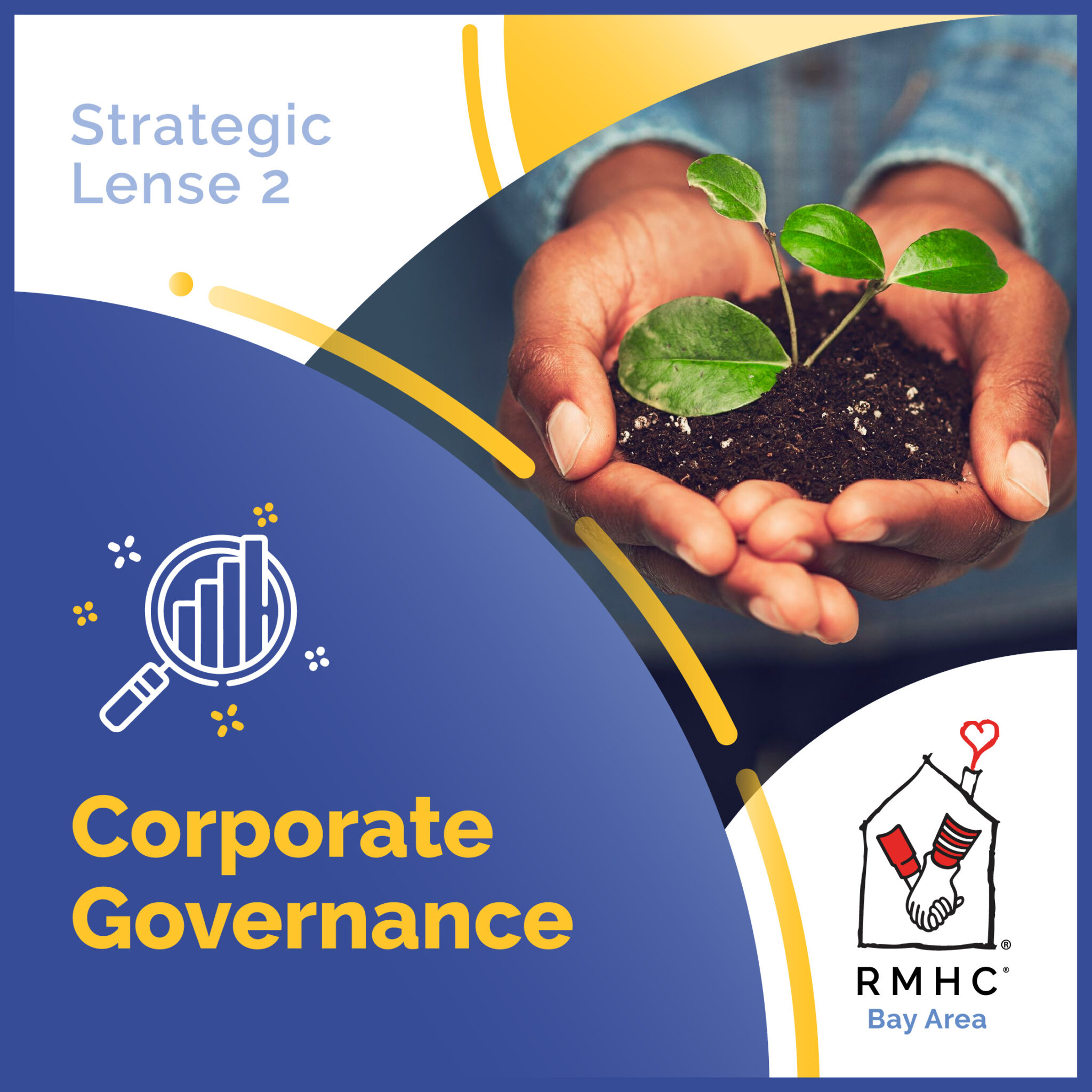 Lens #2: Corporate Governance
The questions we ask ourselves:
Do our policies, practices and organizational structure support our growth plans?
Do we conduct ourselves ethically and in a manner that mitigates risk for RMHC?
Do we have the data we need to support strategic decision making?
Are we transparent and accountable for results, and are we achieving what we set out to achieve?
To be there for sick kids and their families, providing comfort and support when and where they need it most.
A world where every sick child has the care they need, surrounded by family and a community they can count on.
Families: We hold families at the heart of our mission and all our decisions.
Relationships: We nurture relationships and create communities—between families, each other and with the volunteers, donors and partners who make our work possible.
Excellence: We support each other in achieving excellence by being innovative, financially healthy, accountable for results, solutions-oriented, and continuously improving.
Purpose: We find purpose in all that we—and those around us—do in support of families. Our work matters.
Diversity: We embrace diversity, welcoming all people, listening to all perspectives and creating a sense of belonging for the families we serve and the staff, volunteers, donors and partners who support them.
Integrity: We commit to integrity by modeling fair, honest, responsible and respectful behavior.