19 Sep

Press Release: First Ronald McDonald House in Oakland

Posted on Sep 19

OAKLAND, Calif. – September 20, 2022

Media Contact: Nicole Williams, Senior Director, Development & Marketing
925.339.8440 (cell)
nicole.williams@rmhcbayarea.org
---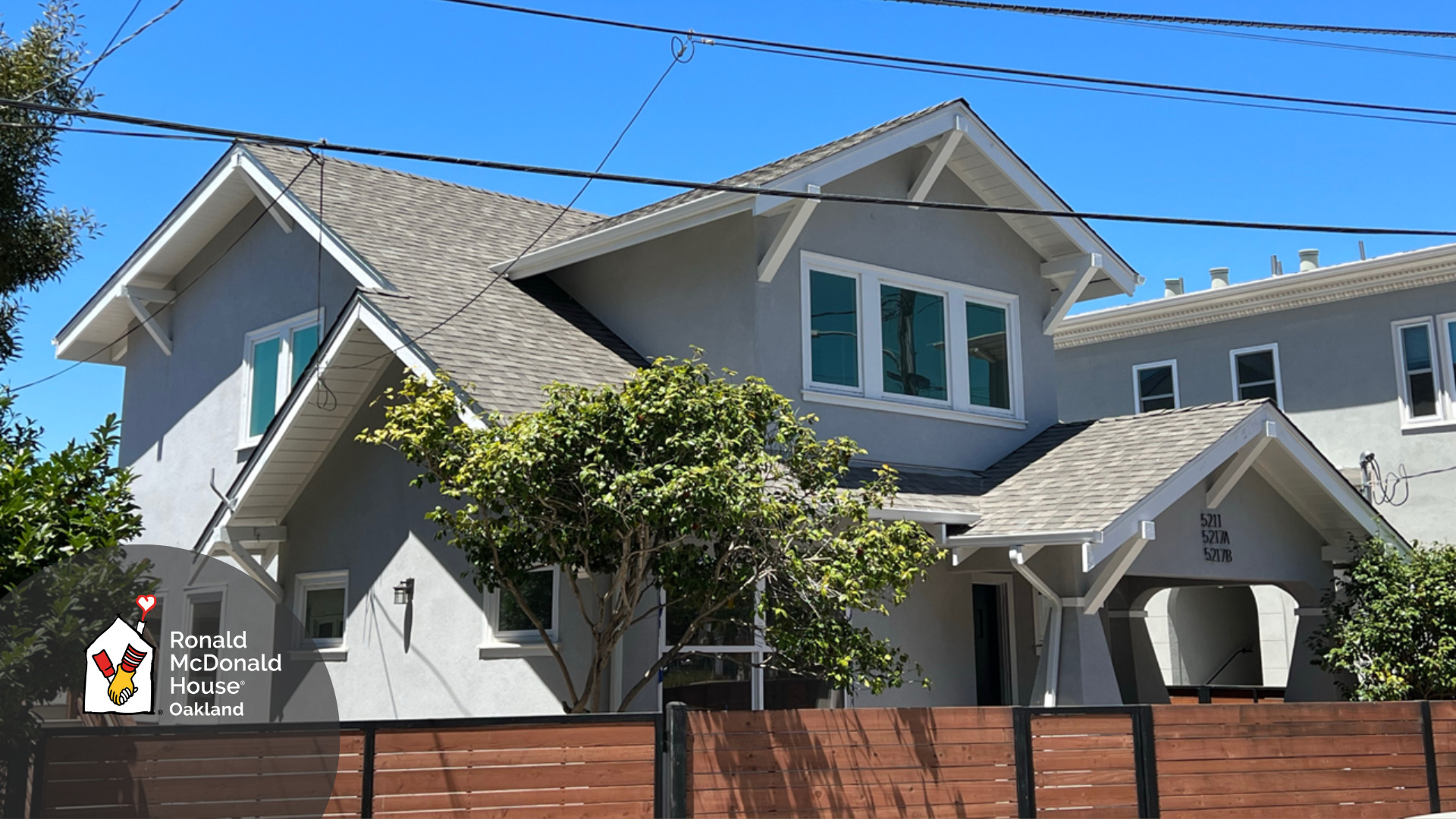 A New House for The Town's Most Medically Fragile Patients
First Ronald McDonald House in Oakland to serve bone marrow transplant patients at UCSF Benioff Children's Hospital Oakland 
OAKLAND, Calif. – There's a new house coming to The Town. Ronald McDonald House Oakland will open its doors in early 2023 to serve as the organization's first Oakland-based family housing facility for pediatric patients recovering from bone marrow transplants at UCSF Benioff Children's Hospital Oakland.
Located in a residential neighborhood directly across away from the pediatric hospital on West Street facing Helen MacGregor Plaza, Ronald McDonald House Oakland will provide highly specialized housing and services for some of the hospital's sickest and most medically vulnerable children — children with cancer and sickle cell disease who are being closely monitored following a bone marrow transplant.
"Ronald McDonald House Oakland will play a major role in providing a safe environment for bone marrow transplant patients and their families to recover together, just steps away from the hospital," said Laura Keegan Boudreau, chief executive officer of Ronald McDonald House Charities Bay Area, a regional nonprofit that also operates the 123-bedroom Ronald McDonald House at Stanford and 11-bedroom Ronald McDonald House at UCSF Benioff Children's Hospital San Francisco.
BCH Oakland provides bone marrow transplant services to more than 20 children a year. After a lengthy hospital stay before and after surgery, these highly immune-compromised children are discharged from the hospital and closely monitored for 100 days, requiring them to be in close proximity to the hospital as they recover. Ronald McDonald House Oakland will provide free specialized housing during this time to children and families who require long drive times between home and the Oakland hospital.
"Ronald McDonald Charities will be providing an important service to our vulnerable children and families following these extensive treatments," said Judie Boehmer, chief nursing officer, UCSF Benioff Children's Hospitals. "These patients are some of the most sensitive to infection and need Ronald McDonald House's specialized housing services to complement the services BCH Oakland currently provides."
Beyond its highly specialized housing services, Ronald McDonald House Oakland will offer supportive programming for all families at BCH Oakland to ease the emotional and financial burden these families face while their children are in medical crisis. This includes space for families to visit for a few hours while their children complete medical treatments, access to meals and snacks outside of designated mealtimes, support programs, laundry facilities and more. The new House will also be a homebase for the nonprofit's Feed the Love Oakland program, which was established in October 2020 to combat food insecurity faced by families at the hospital. The free meal program has provided more than 70,000 meals and currently operates out of RMHC's van, distributing free weekday lunches and dinners outside the hospital's main entrance.
Established in 1912, BCH Oakland is the oldest children's hospital in the Bay Area. The hospital is a leader in sickle cell treatments and research and serves as the safety net hospital for Alameda and Contra Costa Counties.
As a graduate of University of California, Berkeley, Boudreau says she has long dreamed of having a Ronald McDonald House program in Oakland.
"From day one, and for more than 100 years, UCSF Benioff Children's Hospital Oakland has treated every child who needed their care, no matter their family's ability to pay. Now, RMHC Bay Area is finally in a position to partner with this amazing team of doctors, nurses, social workers, child life specialists, and the entire village it takes to help families whose kids are sick," said Dr. Kelley Meade, interim chief medical officer, UCSF Benioff Children's Hospitals, and RMHC Bay Area board member.
"It is difficult to put into words how inspired I am to be leading the RMHC Bay Area board of directors as we establish the first Ronald McDonald House program in Oakland," said Heather Pietsch, the Charity's board president. "Benioff Children's Hospital Oakland and RMHC Bay Area share a powerful goal–to ensure no child is unable to access the care they need due to their inability to pay."
How to Get Involved
Before Ronald McDonald House Oakland officially opens in early 2023, RMHC Bay Area needs the support of local businesses and community members to "warm the house" by donating household items, program supplies, care kits, and more. To participate in the Housewarming Drive, please visit rmhcbayarea.org/oakland for wish lists and other ways to get involved.
###
About Ronald McDonald House Charities Bay Area
Our mission is to be there for sick kids and their families, providing comfort and support when and where they need it most. Ronald McDonald House Charities Bay Area (RMHC Bay Area) is a nonprofit 501(c)(3) that provides no-cost housing, free meals, and comprehensive psychosocial support services to families with critically ill children who are accessing lifesaving care at the Bay Area's leading children's hospitals, including Lucile Packard Children's Hospital Stanford and UCSF Benioff Children's Hospitals in San Francisco and Oakland. Additionally, the Chapter's two Ronald McDonald Care Mobiles provide free oral health care services to the Bay Area's most vulnerable children in Contra Costa and Santa Clara Counties. The 123-bedroom Ronald McDonald House at Stanford is one of the world's largest pediatric housing facilities for medically fragile children and their families, which offers lodging, daily meals, 24/7 family services in English and Spanish, and innovative family-centered programming, including its distinctive makerspace; Family Support Services graduate training program that offers 3,000 hours of therapeutic support to families in medical crisis; an onsite credentialed K-12 school; and more. For more information, visit rmhcbayarea.org. Follow RMHC Bay Area on Twitter, Facebook, Instagram and LinkedIn.