10 Feb

Hungry Families Are Sick Families

Posted on Feb 10
Feed the Love is addressing food insecurity faced by families with seriously ill children
Before COVID-19 hit, the food insecurity in the U.S. was staggering — 13.7 million households were food insecure in 2019, according to U.S. Department of Agriculture data. Now, researchers report those numbers have more than doubled with more than 1 out in 5 households experiencing food insecurity as a result of the pandemic-fueled economic crisis.
Ultimately, hungry families are sick families. At Ronald McDonald House Charities Bay Area, we see families face food insecurity every day.
"Many of our families experience challenges well beyond that of their child's medical diagnosis," said Shabren Harvey-Smith, medical services director at UCSF Benioff Children's Hospital Oakland. "This includes their ability to meet basic, concrete needs. And these needs have been magnified, as you can imagine, by the impacts of COVID-19 for reasons such as job loss, unpaid bills, inability to pay, illness, and childcare since children are out of school right now, among many other things."
Enter RMHC Bay Area's new Feed the Love program.
"Feed the Love was inspired by our desire to meet families' needs immediately where they are so they can focus on what's most important – their child's health," said Bri Seoane, vice president of development and strategic partnerships at RMHC Bay Area.
"When I reached out to RMHC Bay Area and told them about our need here, they did not hesitate," said Harvey-Smith. "We're so thankful for this partnership and the opportunity to provide such a timely response to this food need for our families."
Thanks to a partnership with World Central Kitchen and Stephen and Ayesha Curry's Eat. Learn. Play. Foundation, RMHC Bay Area served 10,500 individual meals at Oakland Children's from October through December 2020, as COVID-19 cases and deaths ravaged the city's poorest neighborhoods, disproportionately harming families of color.
"The partnership between Eat. Learn. Play., World Central Kitchen and RMHC Bay Area exemplifies the African proverb that is often quoted by our co-founder, Ayesha Curry – 'it takes a village to raise a child,'" said Jose Corona, vice president of programs and partnerships Eat. Learn. Play. Foundation. "The commitment of all of these partners coming together to ensure that no child goes hungry during this pandemic is inspiring and demonstrates how much more we can accomplish if we all work together."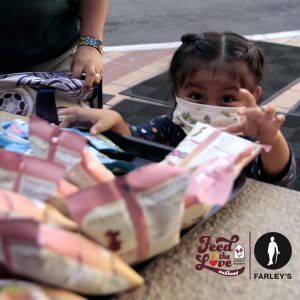 "We believe that no family or parent should have to decide between paying bills or buying food for their children," said Amanda Masula, Oakland operation lead at World Central Kitchen. "Knowing that access to a free meal may ease the tremendous burden these families are carrying is easily the most rewarding part of providing food for the families at Oakland Children's Hospital."
To keep the momentum going in 2021, RMHC Bay Area's new Feed the Love program is designed to alleviate food insecurity experienced by patients and families in the UCSF Benioff Children's Hospital Oakland system. Key to this program is the continued support of East Bay food businesses, who are stepping up big time for families during the pandemic. A growing number of East Bay restaurants, catering companies, food trucks and food providers have committed to donating lunch or dinner, providing at least 75 individual meals each month.
"For us, it was really important to be good partners with local business owners in Oakland," said Seoane. "We're trying to strengthen the community through all levels of this program, not just by putting food in the bellies of families with sick children, but also by supporting the families of the folks that make their living at these restaurants."
Our Feed the Love program is just one of the many ways our community of supporters is feeding our mission at RMHC Bay Area. Learn more about how you can get involved by visiting our Feed the Love page: