19 Feb

Why We Serve – Black History Month 2021

Posted on Feb 19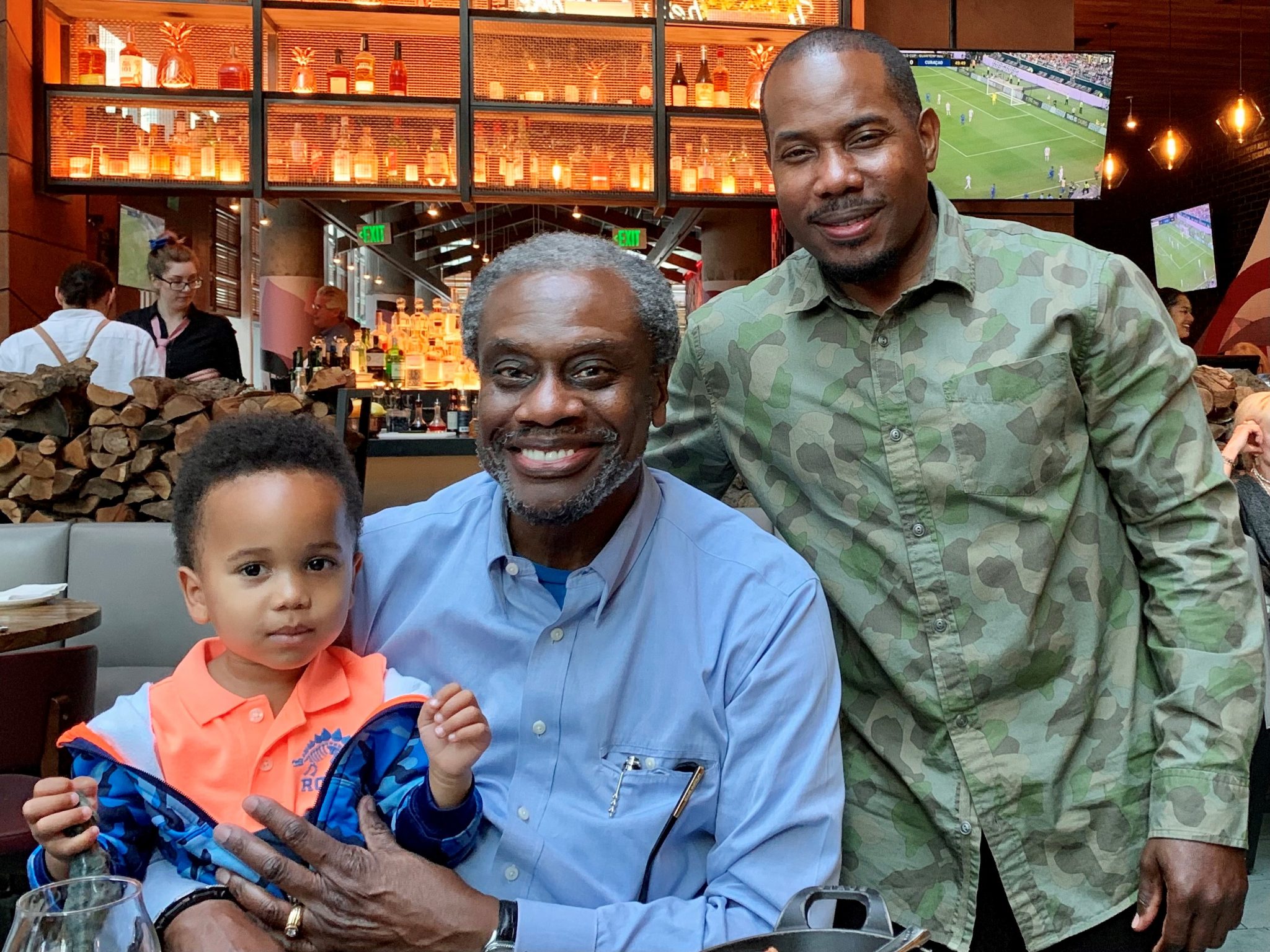 Photo provided by Anthony Ewell | Next-generation McDonald's owner and new RMHC Bay Area board member Anthony Ewell (right) is building on his uncle Larry Tripplett's (middle) 20-year history of feeding Ronald McDonald House families. "Family is everything to me," said Anthony, pictured here with his uncle and son Anden (left).
It was never a question of whether RMHC Bay Area board member Anthony Ewell would spend his career feeding people and giving back to his East Bay community.
"I grew up in a culture of giving," said the local McDonald's franchise owner, who watched his uncle and mentor Larry Tripplett feed Ronald McDonald House families every Friday for more than 20 years at Stanford.
"I've been on the assembly line packaging those meals," said Anthony, who joined the RMHC Bay Area board in 2020 just before the pandemic hit. "Seeing firsthand the look on families' faces … just to bring a smile to their faces during a challenging moment, during a crisis, that brings happiness to us."
Read Anthony's Full ``Why We Serve`` Story
Black History Month Reflections: Q&A with Board Member Anthony Ewell
Q: Why do you think it is important to celebrate Black History Month?
A: Black history is very important to me. We all have to know where we come from, and we can use history to actually make a better future.
Q: Thinking about this moment, reflecting on 2020 – what do you hope we learn from history as we build our future?
A: Most importantly, I hope we all learn to love one another. There's a lot of animosity out there and I think it stops us from creating organic relationships and (focusing) on doing the right thing. I think when everyone learns how to love one another, then we'll really be able to sit down at the table and dig in deep on doing what's right.
Q: Which Black leaders have influenced you most?
A: As a civil rights leader, it would definitely be the Dr. Martin Luther King, Jr. I'm mostly impressed with how he led through is relationship with God. His spiritual connection, I believe, led him to do the right thing — advocating not only for Black/African Americans' equality but for equality for all, for everyone. That's what I hold in the highest regard.
Q: Do you find Dr. King's influence showing up in your own leadership?
A: Yes. I try to be fair. The decisions that we make daily can't all be about oneself. You have to make decisions that are going to have the greater impact, in a positive way, for everyone. So that's how I try to lead — not to be selfish but to give selflessly. That's one thing that resonates with me the most when it comes to Dr. King.
Q: 2020 was a big year to join the board; what are you most proud of about your board service?
The thing that I am most proud of is … everyone answering the bell for the (Give for Kids) challenge that was put out to the board (to collectively give $500,000 to support RMHC Bay Area's COVID-19 relief efforts). For me personally, I ventured out, brought people in, and we were able to make that connection in Oakland and start feeding families at the children's hospital. Learn more about our new Feed the Love Oakland program.
Related Stories: