28 Sep

Golf & Friend-A-Family made a HUGE impact

Posted on Sep 28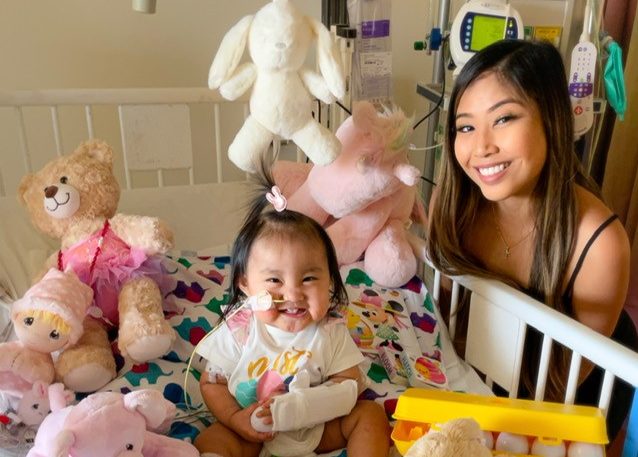 "After constantly worrying about my daughter and her operation, I was also worrying about who was going to take care of my son."
You make a difference.
On behalf of our featured family speaker, Abigail, her daughter, Adrianna, and everyone at Ronald McDonald House Charities Bay Area, thank you for showing your support for families and sick children in need of reliable access to medical care. It was wonderful to gather in person again for a day of golfing for a great cause and a night of inspiring speakers, live music, delicious food, and connecting with so many people who share a passion for giving back.
"I don't know how I would have done this or how my experience would be without the help of the Ronald McDonald House," Abigail said last night. "I can't imagine spending all the money for a place to stay every night and for all the meals if I had not stayed at the Ronald McDonald House." Your dedication to our cause helps families like Abigail's navigate medical crisis on top of medical crisis. 
Each year, we must raise more than $6 million from individuals and organizations to advance our mission. You helped us get closer to that number, as we continue to navigate the pandemic.
We're still tallying donations, but so far, you've raised $515,000 for RMHC Bay Area families!
Didn't get a chance to Friend-A-Family? You can still help Abigail and Adrianna by donating today. Click the button below to give online. You can also give a Friend-A-Family gift by DAF, check, or transfer by contacting Bri Seoane at bri.seoane@rmhcbayarea.org or 510.695.1022.
Friend-A-Family
Adrianna's heart journey continues.
Just days ago, Adrianna received a healthy and successful heart transplant. Together, supporters like you ensure thousands of families have a safe space to stay during the pandemic with regular access to nutritious meals, everyday necessities, and the support of a community who share similar experiences. Because of you, Abigail said, "The Ronald McDonald House gave us a few less things to worry about and we were able to focus our attention on other important matters." Watch Abigail share her story live from Music on the Patio.
Thank you again for making our Golf Invitational and Music on the Patio events so meaningful. We are endlessly grateful for your support and hope to see you next year!