04 Aug

Emilio's Story — Accessing Care in Crisis

Posted on Aug 04
Nothing can prepare you for the news that your child is critically ill, and it was no different for Maricela and Mario.
From the moment their youngest, Emilio, was born 11 months ago, the couple knew their lives would be changed forever.
Only days after his birth, Emilio was diagnosed with a rare genetic disorder. Without a liver transplant — the kind of care unavailable in the Central Valley— Emilio's own proteins were toxic and deadly.
"You never think this could happen," said Maricela.
Like 20 percent of RMHC Bay Area families, their family lives in a rural agricultural community designated "medically underserved" by the Health Resources and Services Administration. Living in a community where most struggle to access even the most basic primary care creates additional barriers for parents whose children require specialized treatments only available in Bay Area cities.
"During my pregnancy, I was always told everything was fine," said Maricela, who stopped working in the grape fields as soon as she learned she was pregnant with Emilio. "You never imagine that your child might be ill."
Helping the "Sickest of the Sick" Access Critical Pediatric Care
During the pandemic, RMHC Bay Area has worked closely with its hospital partners, Lucile Packard Children's Hospital Stanford and UCSF Benioff Children's Hospitals in San Francisco and Oakland, to keep families fed and housed near the hospital as they face crisis on top of crisis.
"We are helping the sickest of the sick children access lifesaving medical care." said Laura Boudreau, chief executive officer. "And thanks to our community, we have been there to help families through one of the toughest years we can remember." Families like Emilio's.
(COVID-19) is changing all of our lives.``
— Emilio's mom, Maricela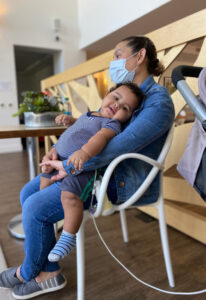 Because their local hospital could not support Emilio's needs, his family was referred to Packard Children's — hours away from their home base of Dinuba.
Doctors told Maricela and Mario they would need to stay in the Bay Area for at least three months for Emilio's transplant surgery, presenting challenges in caring for their three other children. COVID-19 hit shortly after, placing yet another obstacle to care in the family's path.
After months of anxious waiting, Maricela and Mario received the call in June that Emilio would be receiving his new liver. And so, they made the 200-mile trip to Ronald McDonald House at Stanford.
"It has been extremely hard not having my other kids here," said Maricela. "Last year, we were all at Ronald McDonald House together, but now with COVID-19, it has been extremely hard. It is changing all of our lives." (See COVID-19 restrictions.)
Like many parents of critically ill children, one of Maricela's biggest concerns is how to stay afloat financially while caring for Emilio during a global health crisis.
Building Resiliency During Medical Crisis
"When you add something as chaotic as a pandemic to an already trying time, it can become even more anxiety provoking and overwhelming," said Martha Hernández, Ph.D., associate director of Family Support Services at RMHC Bay Area.
Hernández and her team of graduate students quickly adapted Family Support Services to pandemic life, transitioning to telehealth and virtual psychosocial support in both English and Spanish, as well as online "fun clubs," which are therapeutic play-based sessions to help families build resiliency and coping skills during times of isolation and instability.
"Given the current pandemic, we know support and human connection is needed more than ever," Hernández said. "We are able to provide an empathic and warm space where individuals, couples and families can meet and discuss their stressors."
— Associate Director Martha Hernández, Family Support Services
About Dr. Hernández and Family Support Services
At RMHC Bay Area, our Family Support Services program has a distinctive purpose — normalizing the grief families experience during medical crisis, building family resiliency, and honoring the diversity of families we serve and their journeys.
Our ability to provide culturally responsive and linguistically appropriate psychosocial support reflects the distinctive expertise of Associate Director Martha Hernández, Ph.D., which includes family systems, culturally appropriate therapeutic services, Spanish-language training didactics, trauma-focused therapies, immigration issues, and diversity and inclusion leadership in the American Psychological Association.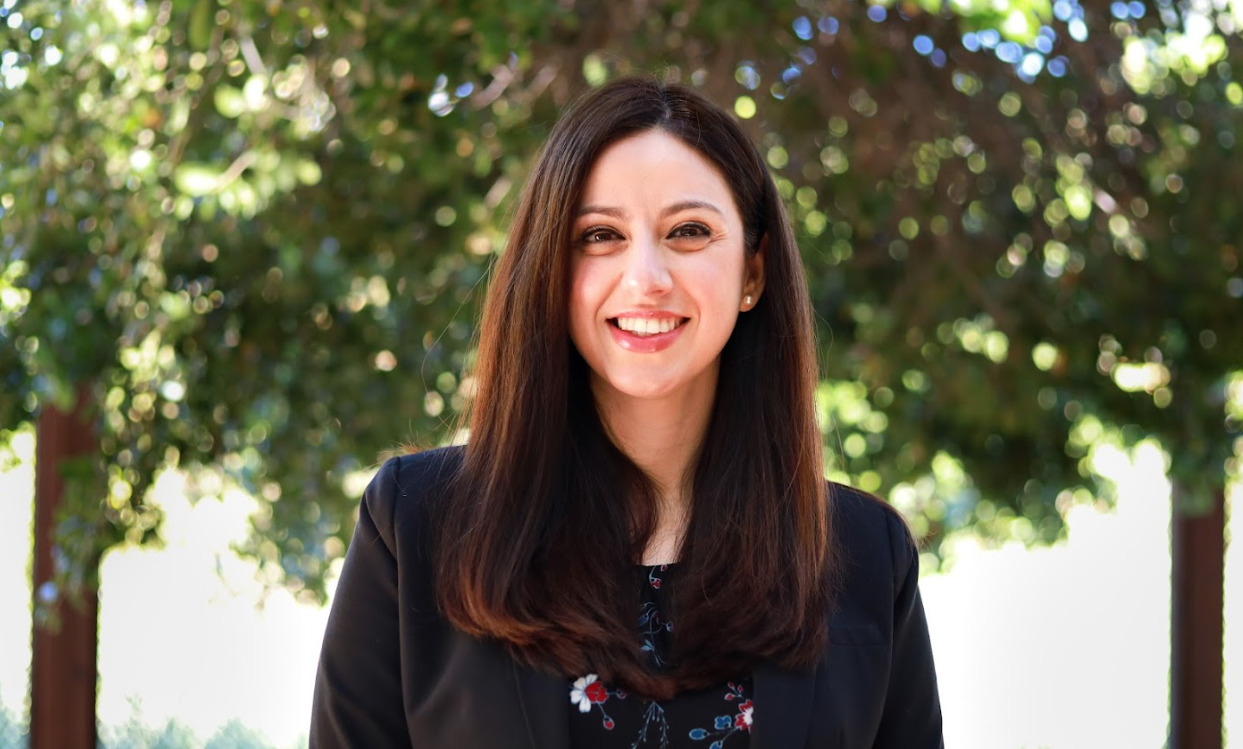 "My family's story is similar to many other Latinx families, in that my parents and siblings were unauthorized when they arrived in the U.S., we worked in agriculture for long tedious hours with minimal pay, and somehow we were able to push through the various barriers and obstacles placed in front of us. It was my parents' resiliency and determination that instilled in me the dedication and perseverance that allows me to identify as a Latinx doctora; for that I am eternally grateful and proud of my parents."

— Martha Hernández, PhD, associate director, Family Support Services
READ MORE from Dr. Hernández's Hispanic/Lantinx Heritage Month Q&A
Additionally, Hernández and her team of FSS graduate students have implemented virtual support for RMHC Bay Area staff, as they cope with additional stressors and responsibilities during the pandemic.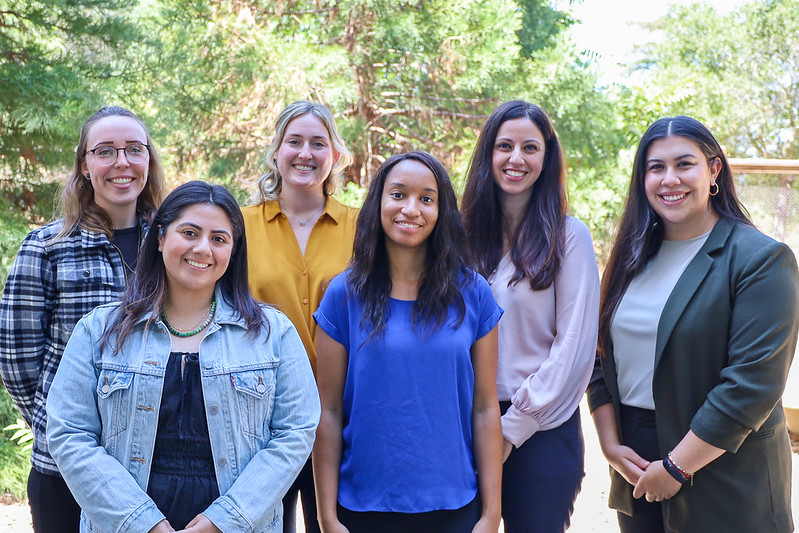 "Our frontline staff members have stepped up to support families 24/7," Boudreau said. "And we firmly believe that you have to care for those who care for others."
Thanks to the generosity of Bay Area supporters, those who stood with RMHC Bay Area through times of challenge and controversy, Emilio's family and thousands of others received the help they needed most — access to the best doctors for their children, housing, meals, and holistic support.
"We are able to help families weather this storm because of the support our community has provided for 40 years," Boudreau said. "And with emergency donations, we will be here for families and our hospital partners after the crisis subsides."
You can join RMHC Bay Area's mission to provide critically ill children with communities of support, access to medical care, and the healing power of family during medical crisis by visiting www.rmhcbayarea.org/help.
"If Ronald McDonald House was not here, I'm not sure what we would have done. We would never have the means to stay at a hotel," recalled Maricela. "The help provided and donated is tremendous to all the families."
— Story by Hilary Marvin and Nicole Williams; video and photos by Kaitlyn Robinson
Serve Families, Help Today
Aug. 8 — Last week, Is-e Hogan, grandmother of Jackson Sattler, and her friends hosted a wonderful dinner for RMHC Bay Area families honoring the memo...

May 11 – As we celebrate Mother's Day on Sunday, May 14, and Mother's Day in Mexico, El Salvador, and Guatemala this week on Wednesday, May 10, moms l...
23,832 overnight stays
nearby and inside the hospital
$11,081,880 worth of supportive housing services
for families with sick children
2,000 hours
of psychosocial support
3,175 snack packs
delivered to families at the hospital
95,897 free meals
offsetting $1.4 million in meal expenses
92,626 pounds of food
distributed thanks to our Second Harvest food bank partnership
4,000 toys and care items
donated for Comfort & Joy with an estimated value of $88,000
90 students enrolled
in hybrid Ronald McDonald House School (Carter Family Classroom)