18 Jul

Press Release: McDonald's Round-Up Program Benefits Local Ronald McDonald House Charities

Posted on Jul 18
Local McDonald's Customer Hosts "Celebration of Life" in Honor of RMHC Bay Area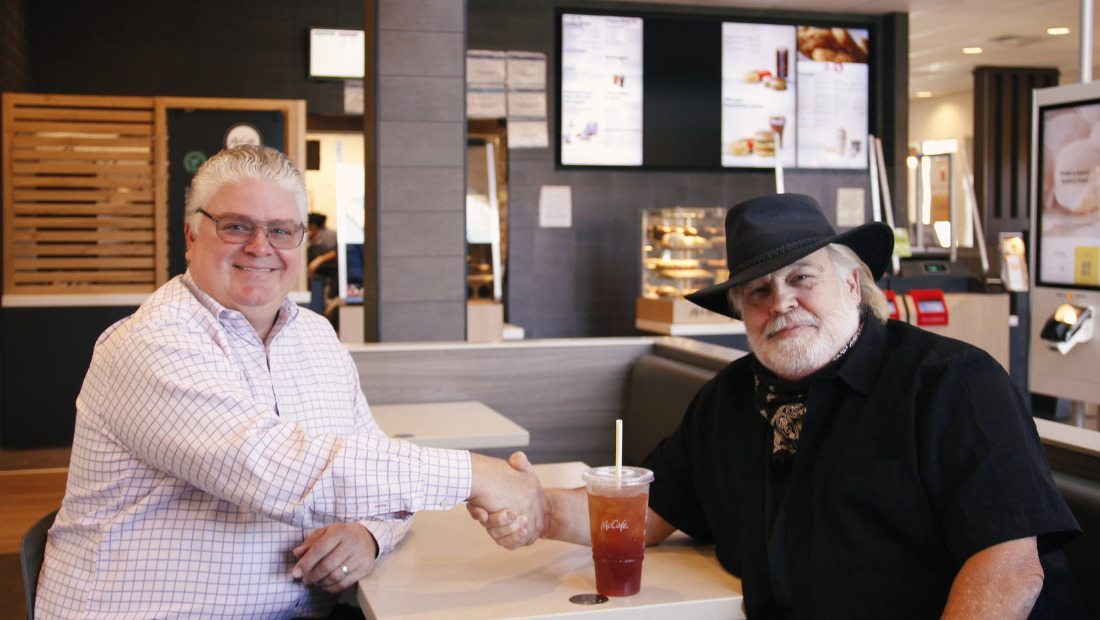 Photo by Kaitlyn Robinson; Fremont McDonald's Owner Mark Bernardin with Ronald McDonald House donor and McDonald's customer, David Schoen.
Local McDonald's owners are gearing up to raise money for Ronald McDonald House Charities Bay Area (RMHC Bay Area) and families in need. The pandemic has caused the Charity to lose nearly $1M in revenue sources due to event cancellations and volunteer restrictions. In an effort to close the gap, local franchisees are spreading awareness of the Round-Up program, which enables customers to round up to the nearest dollar to support families with sick children this holiday season. 
Round-Up offers a new way to support families with sick kids for avid McDonald's customers like David Schoen. For more than 25 years, Schoen visits his neighborhood McDonald's every day to buy an iced tea and drop his change in the donation box. After his diagnosis with stage four metastatic cancer, Schoen and his wife Shadia Schoen hosted a "celebration of life" earlier this year, encouraging their family and friends to donate to the RMHC Bay Area Chapter that David's donation-box change has been supporting for decades.  
David resides in the Bay Area and is well-known by the general manager and drive-thru staff of the Mission Blvd McDonald's location in Fremont. David recently met with the restaurant's local owner/operator, Mark Bernardin. 
"When I first heard about David's decision to have his own celebration of life and use the opportunity to raise money for Ronald McDonald House Charities I thought, 'What a wonderful way to give back,'" says Bernardin. "We, in the McDonald's family, know of the good work that RMHC does, and to know that someone like David thought enough of the importance to do his own fundraiser as he is battling cancer, truly warms our heart, especially at this time of year."
Since the beginning of the pandemic, RMHC Bay Area has continued to serve families of the sickest children accessing medical care in the region — all without the event revenue and volunteer support they typically rely on to house, feed, and support families. To help make up for the loss, McDonald's restaurants throughout the Bay Area and Central Coast will enhance their efforts to encourage customers to Round-Up their order to the nearest dollar for their local RMHC.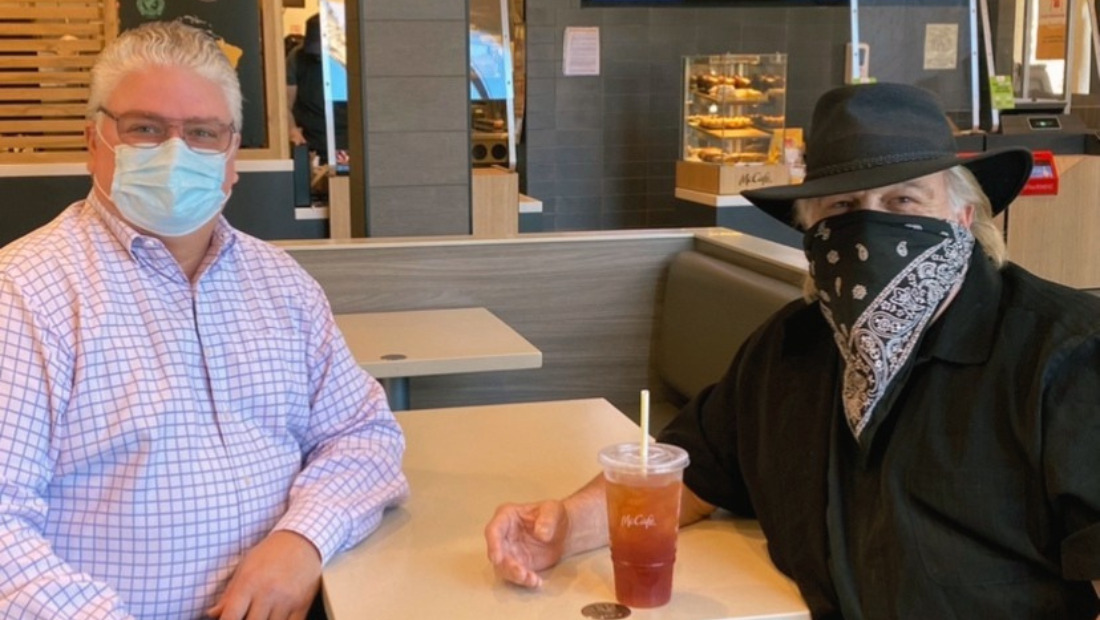 "McDonald's customers have always played a major role in raising funds for Ronald McDonald House families, helping us deliver on our mission to keep families together and near the medical care they need," says Laura Keegan Boudreau, Chief Executive Officer for  RMHC Bay Area. "The pandemic hasn't slowed childhood illness; it has made it more complex. We are grateful for the community's continued support through donation boxes and now Round-Up at McDonald's."
RMHC Bay Area offers essential housing, meal, and psychosocial support resources to children and their families receiving care at nearby hospitals. The Round-Up for RMHC Program is happening throughout the month of December. For more details, please contact Vanity Duran at vduran@handlpartners.com.
About McDonald's of San Francisco and Central Coast:
More than 200 McDonald's restaurants in the San Francisco Bay Area through the Central Coast area are independently owned and operated by independent McDonald's franchisees. For more information, visit www.mcdonalds.com, or follow us on Twitter @McDonalds and Facebook www.facebook.com/McDonaldsUS/.
About Ronald McDonald House Charities Bay Area:
Ronald McDonald House Charities Bay Area (RMHC Bay Area) provides no-cost housing, free meals, and comprehensive psychosocial support services to families with critically ill children who are accessing lifesaving care at the Bay Area's leading children's hospitals. Additionally, two Ronald McDonald Care Mobiles provide free oral health care services to the Bay Area's most vulnerable children. The Chapter's 123-bedroom Ronald McDonald House at Stanford is one of the world's largest pediatric housing facilities, which offers lodging, daily meals, 24/7 family services in English and Spanish, innovative family-centered programming, an onsite credentialed K-12 school; and more. For more information, visit www.rmhcbayarea.org.
###