The RMHC Bay Area team works to provide housing and meal support to families with sick children near the medical care they need.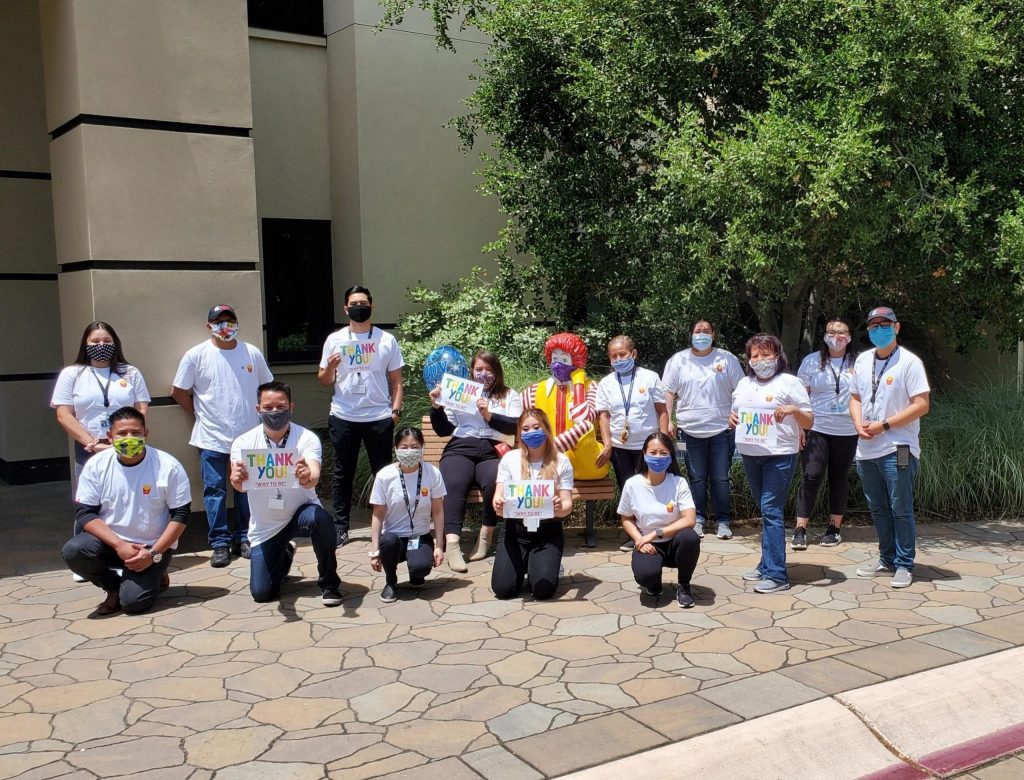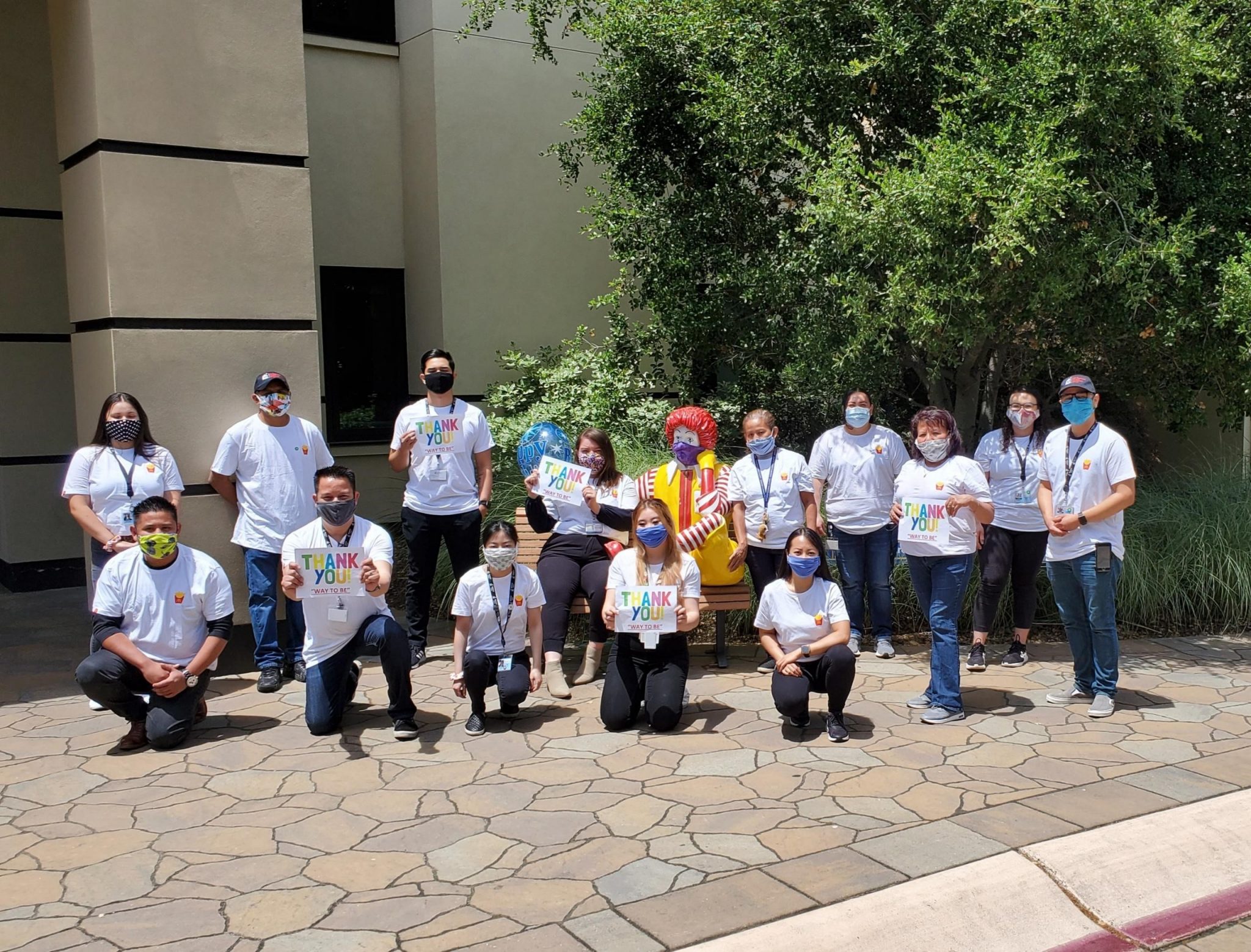 See Current Job Openings Listed Below
Operations Coordinator
*Notice* Send all applications to Roger Cordoba at roger.cordoba@rmhcbayarea.org.
Job Site: Ronald McDonald House at Stanford, 510 Sand Hill Road, Palo Alto, CA
JOB SUMMARY
The Operations Coordinator plays a critical role within the Family Services team working alongside the Associate Director to support the 24/7 operations at the 123-room Stanford Ronald McDonald House. Operations Coordinator is responsible for the everyday support of the Guest Services Team (13) and Meal Program Associates (2), ensuring and delivering the mission of RMH by providing the best guest experience. The Operations Coordinator meets these daily responsibilities by supervising and supporting front desk personnel, including the onboarding process, training, coaching, and directing all work. The ideal candidate values teamwork, as this position works closely with the Accommodations Coordinator, Meal Coordinator and Volunteer Manager to support their respective programs to meet the families' needs.
This position requires high-level customer service, interpersonal skills, confidentiality, and the ability to work with diverse populations. The Operations Coordinator and their team is the first point of contact and representation of RMHC with guest families, community volunteers and donors, vendors, and hospital partners. Requires on-the-fly problem solving skills, ability to deescalate issues and concerns, and an eye for sustainability and scalability.
This is a full-time, non-exempt position reporting to the Associate Director, Family Services. The standard schedule for this position is Sunday-Thursday, 10:30 am – 7:30 pm and is expected to work a flex schedule to meet the needs of their staff. This role requires working some weekends, and holidays. Required to cover Guest Service Associate shifts on occasion. This role is based out of the Stanford (Palo Alto, CA) location.
DUTIES AND RESPONSIBILITIES
Collaborate with Associate Director to design Guest Services Associate (GSA) task management process
Implement training for GSAs, in coordination with Associate Director
Manage all aspects Day Pass Program including collateral production, orientation for volunteers and Day Pass families, registration process
Direct the daily work of GSAs while assuring that services and programs are provided in a manner consistent with current policy and procedures
Responsible for common spaces throughout campus (laundry rooms, computer nook, gym, lounge, consultation rooms, lobby, storage areas, TV rooms, Day Pass spaces, great room, seating nooks in hallways, rec room, conference rooms, magic closet), requiring the following:
Develop guidelines and protocols for each space
Establish and maintain "on hand" supply and inventory levels
Ensure that each space is restocked daily
Conduct daily walkthroughs ensuring that each space is tidy, safe, in good condition and to plan daily volunteer tasks
Place work orders for malfunctioning or broken furniture and equipment
Collaborate with meal, accommodations, maintenance, and volunteer services to troubleshoot concerns, and under the direction of the Associate Director execute on solutions
Track and report statistics
QUALIFICATIONS AND PREREQUISITES: EDUCATION AND EXPERIENCE
Education
Bachelor's Degree preferred
PRIOR WORK EXPERIENCE:
Five years' experience managing people and key relationships
Experience interacting with people from diverse cultural and socio-economic backgrounds.
Demonstrated ability to interface comfortably and professionally with members of the public and staff
KNOWLEDGE, SKILLS AND ABILITIES:
Basic knowledge of Microsoft suite and enthusiasm for learning new software tools
Highly customer service oriented with enthusiasm and good sense of humor
Able to handle difficult situations with confidence and compassion
Well-developed oral and written communication skills with the ability to interact effectively with all levels of the organization
Excellent organization skills and pro-active problem solver
Strong attention to detail
Ability to work in a demanding environment within a dynamic team
Maintains confidentiality of House families and related reports and documentation
OTHER:
Ability to work in a semi-medical environment with children being treated with life-threatening illnesses and their families
Valid CA driver's license
Must be able to lift 25 pounds
Job description is for informational purposes only. Additional duties that are consistent with the responsibility level may be assigned.
HOW TO APPLY
Please send your cover letter and resume as attachments in MS Word or PDF format only. In the subject line of the email, please list your last name and the position title. Send all documents to Roger Cordoba at roger.cordoba@rmhcbayarea.org
Job Type: Full-time
Pay: Up to $20.00 per hour
Benefits:
401(k)
Dental insurance
Disability insurance
Health insurance
Life insurance
Paid time off
Referral program
Retirement plan
Vision insurance
Schedule:
8 hour shift
Holidays
On call
Overtime
Weekends
COVID-19 considerations:
We have taken all the necessary measures to ensure that our families and our staff are kept safe from the virus.
Experience:
Operations: 1 year (Preferred)
This Job Is Ideal for Someone Who Is:
Dependable — more reliable than spontaneous
People-oriented — enjoys interacting with people and working on group projects
Adaptable/flexible — enjoys doing work that requires frequent shifts in direction
Detail-oriented — would rather focus on the details of work than the bigger picture
Achievement-oriented — enjoys taking on challenges, even if they might fail
Autonomous/Independent — enjoys working with little direction
Innovative — prefers working in unconventional ways or on tasks that require creativity
High stress tolerance — thrives in a high-pressure environment
This Job Is:
A job for which all ages, including older job seekers, are encouraged to apply
Company's website:
Company's Facebook page:
Benefit Conditions:
Only full-time employees eligible
Work Remotely:
No