09 Oct

A House To A Neighborhood 🏘 – Elevate understanding of RMHC Bay Area

Posted on Oct 09
S

trategic priority

 #3: We will elevate our brand so that people understand what we do, how to help, and where to turn when they need us.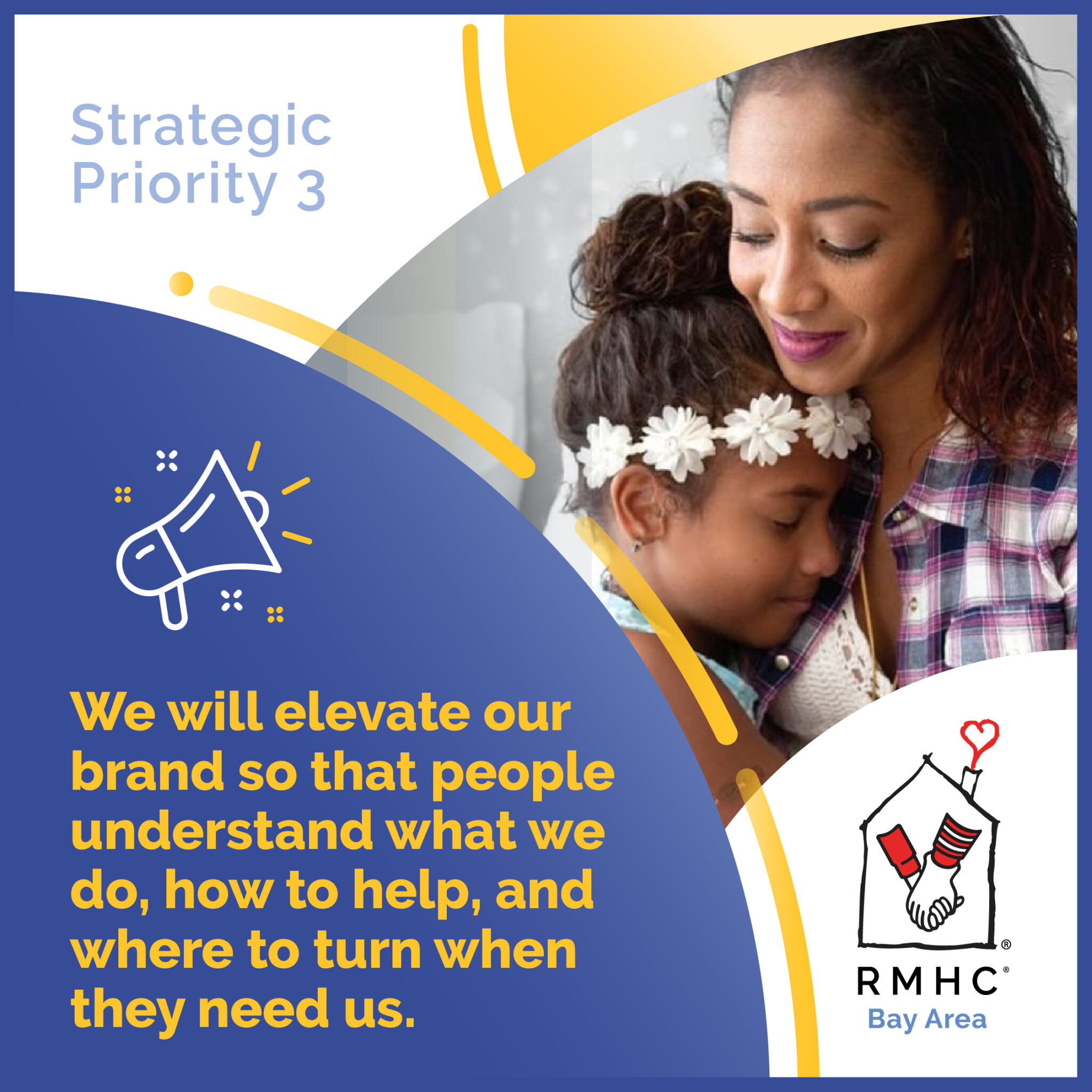 While many people have heard of Ronald McDonald House Charities, not everyone may know exactly what we do. That presents us with a tremendous opportunity because we believe when people learn all about our mission, they want to help. To build the base of support, we need to amplify our message – engaging Spanish-speaking audiences, leveraging the PR power and customer base of McDonald's, and getting our message to the outer reaches of the region. 
Since first opening our doors, we've become more than a Ronald McDonald House — we've become an entire neighborhood of support. And while our brick-and-mortar House programs will always be at the center, we know that there are opportunities to reach even more families by thinking beyond our walls. 
Engaging Spanish Spanish-speaking Audiences
One direct way to engage with our Spanish speaking audience is with the families RMHC serves. 

Did you know? 
More than a third of our families served speak only Spanish. Therefore, we must lead in delivering our services and information in Spanish and English as often as we can. Dr. Hernandez, associate director of Family Support Services (FSS), has been leading the mental health services and training for RMHC Bay Area families that wish to participate.  
We are a leader in delivering Latinx/Spanish-language mental health services and training. Meet Dr. Hernández, associate director of Family Support Services >> 
Meet

our newest Family Support Service cohort!👋
When a family stays at RMHC Bay Area, they become part of the greater community. Families know firsthand what RMHC services and programs mean to them. Offering many of our services in both English and Spanish allows us to connect with most of our families on a deeper level. Families are natural liaisons and help amplify our mission with a greater audience. By increasing communication with more families, we can push our mission even further! 
McDonald
'
s
Partnership –
L
everaging
PR
P
ower and
C
ustomer
B
ase
Today, we are stronger than ever due in large part to the support of our local McDonald's community, customers, and service partners.
The McDonald's partnership support extends from monetary contributions to volunteerism, from board participation to media donations, and much more. This has helped us further the impact on thousands of lives, giving families the support, stability and the best medicine of all – having their families close. 
🤝 Celebrating stories of support from our local Hispanic McDonald's franchise owners!
Together, owners, customers, suppliers and employees of the Greater Bay Area McDonald's Cooperative throughout the 15-county Bay Area and Central Coast region provide invaluable support in many ways including: 
Fry Assessment

: One cent from every pound of fries sold at local McDonald's restaurants benefits RMHC Bay Area, totaling more than $200,000 annually.

 
Shamrock Shake: Released each spring, twenty-five cents from every small Shamrock Shake sold at local McDonald's restaurants benefits RMHC Bay Area.

 

Eggnog Shake

: Released each winter, twenty-five cents from every small Eggnog Shake sold at local McDonald's restaurants benefits RMHC Bay Area.

 

McDonald's National Fundraiser

: Each November, McDonald's restaurants encourage customers to contribute their change to RMHC Donation boxes through crew managers, members and in-store promotion materials.

 

Giving at McDonald's – Round-Up & Donation Boxes

: Every time someone visits a McDonald's restaurant, customers can help support families at RMHC Bay Area by choosing to Round-Up for RMHC when they place an order on the kiosk or ask a crew member to Round-Up the total at the counter or drive-thru. Customers may also drop spare change in any of the RMHC Donation Boxes in restaurants or drive thru.

 
McDonald's

Owners and

Operators

Going

B

eyond

!
 🏆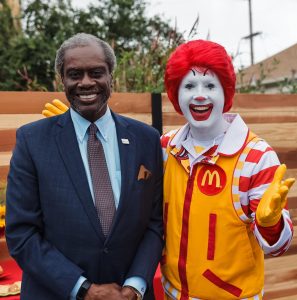 In May, RMHC Bay Area celebrated the opening of the Larry C. Tripplett, Sr. Family Center at Oakland's first Ronald McDonald House.  Because of the great commitment many of the McDonald's owners and operators have for our families, the house bears Larry C Tripplett Sr.'s name to shine his commitment to continue to support RMHC Bay Area, including a one-million-dollar pledge for our Oakland house. We have officially opened the 7-bedroom home to serve bone marrow transplant patients of UCSF Benioff Children's Hospital Oakland.
Round
–
U
p at Your Local McDonald's 
One way that McDonald's Owners and Operators can help our mission further is through the Round–Up program. At RMHC Bay Area, we are delighted to have over 180 Round–Up participating Mcdonald's locations across the Bay Area. At each participating location, McDonald's staff is encouraged to ask customers to Round-Up for RMHC Bay Area, these funds go directly to help support our programs for families with critically ill children. Customers may also drop spare change in any of the RMHC Donation Boxes in restaurants or drive-thru. Local Bay Area McDonald's franchises and customers provided 54% of the corporate support RMHC Bay Area received in 2022, and there is tremendous room for growth!  
It's as easy as "I want to Round-up for RMHC" next time you visit your local @McDonalds! Your total will be rounded up to the nearest dollar, and your change will be donated to RMHC to help keep families together!

Your change + McDonald's = ❤️ for RMHC families#RMHCBayArea pic.twitter.com/IsajKvJlTv

— Ronald McDonald House Charities Bay Area (@RMHCBayArea) September 8, 2023
🍟 You can help us further our mission by rounding up or dropping your spare change whenever you visit your local McDonald's!
Strategic Priority #3 underscores our commitment to elevating the Ronald McDonald House Charities' brand. We recognize the vast potential of increasing awareness about our mission and the profound impact it has on families in need. Engaging Spanish-speaking audiences is paramount, as a significant portion of the families we serve are Spanish speakers. By providing services and information in both English and Spanish, we deepen our connections and empower families to amplify our mission. 
 
Our partnership with McDonald's has been instrumental in our growth, with their unwavering support in various forms, from monetary contributions to volunteerism. This collaboration demonstrates the immense power of community involvement and corporate partnerships. We also extend our heartfelt gratitude to the dedicated McDonald's owners and operators who have gone above and beyond, contributing significantly to our cause. 
 
As we reflect on the journey that has led us to become more than just a house but a neighborhood of support, we envision a future where our message reaches even further, touching the lives of more families in need. Together, we can continue to provide support, stability, and hope to children and their families during their most challenging times. Your support, whether through rounding up at McDonald's or simply spreading the word, plays a vital role in helping us achieve our mission. We are immensely grateful for your continued support and dedication to RMHC Bay Area!